You know what's tougher than the VA?
Everything.
I simply refuse to believe that we could force our minds and bodies to do the things we did in military service, but we cannot get our claim granted the way we believe it should be.
Crawl through the mud under fire to find a better fire position?  You can beat the VA.
Jump out of an airplane and have your parachute collapse? You can beat the VA.
Survive 2 years of  120 degree days and 80 degree nights in Iraq, living under constant threat of mortar attacks? You can beat the VA.
I do believe, however, that we must approach our VA Disability claim with the same discipline, the same grit, and the same professionalism as we approached everything in our military career.
I Have Found 8 distinct patterns in VA Disability Claims.
I have been representing Veterans in the VA Disability Claims process for 8 years.  During that time, I have looked at hundreds, if not thousands, of VA C-Files.
And while looking through those C-Files, I began to notice patterns.
Patterns why the VA acted in certain ways.
Patterns of filings by Veterans.
Patterns of evidence in certain types of claims.
I found 8 patterns that  were so common, that it was hard to ignore their impact on a VA claim's outcome or timeline.   I realized that the Veterans that did MORE of these 8 things had completely different experiences  with the VA disability claims process.
A large percentage of people that followed the 8 patterns – what I call the 8 Steps – had very different outcomes and timelines in their VA disability claims and appeals.
I tested the 8 Patterns in my Firm's VA Disability Claims.
When we followed all 8 Steps – and broke all 8 patterns – we achieved faster and more satisfactory outcomes from the VBA.   Now, I don't want to mislead you
The VA still took a long time.  But instead of taking 3 years for the VA to get a decision, we received many decisions in under a year.  In a few cases, we received decisions in under 90 days.
The VBA still made a lot of mistakes in the VA disability claims.  But the VA errors were fewer and smaller.
The results were shocking enough that I decided to share my experience with Veterans like you on the Veterans Law Blog.
Here are the 8 Steps YOU can Take to Improve Your VA Claim.
Step #1:  The Veteran has to "See the Solution".
The VA may be the problem.  But Congress isn't the solution. The VA isn't the solution.  YOU are the solution.
When you realize that you have MORE Power in Your VA Claim than you think you do, you have taken the 1st step in improving your VA Disability Claim.
Start this Step by reading about the "5 Reasons that the VA Keeps Screwing Up Your VA Disability Claim".

Step #2: Get your VA C-File.
The C-File is the most important document in your entire VA Disability Claim.  Often times, the reason that the VA is denying your disability claim is in your C-File.
Retired Army First Sergeant Daniel T. says it best:
"I received my VA C-File less than 10 days, thanks. I read partial of my C-File and the information for my claim is in there, VA just didn't read/find it. I found it on page 26 and again on page 29, wow. The only thing that I was missing from my C-File was my [name of his Specific Medical Record]." 
Get your VA C-File NOW – don't wait another day.  Follow this link to find out the method my firm uses to get Veteran's C-Files from the VA.
Step #3: Learn the Law.
You don't need to become a lawyer.
But you do need to understand some of the basic law of a VA Disability Claim or Appeal.  There are 10 Cases that I think Every Veteran Should Know – I teach you how to USE the law in these cases to help your VA disability claim.
If you have a Sleep Apnea Claim, it is crucial to learn which arguments you will want to make – all turning on what type of sleep apnea you have and when it was diagnosed. (Check out the hugely popular VA Sleep Apnea Field Manual – in eBook format and as a paperback book.)
If you have a TDIU claim – understanding how the VA looks at  evidence and arguments in these claims can change how the VA treats your claim.
Vietnam Veteran Gary A. said this about my Veterans Law eBook teaching the basics of a TDIU claim:
"This eBook is pure gold.    I am a Vietnam vet with a 80 % disability rating, currently being evaluated by the VA for TDIU. This book gave me the knowledge and faith that I have done the right things to be successfully evaluated." 
 Step #4: Build the 4 Pillars.
4 Pillars need to be built in nearly every VA disability claim for service connection. The 4 Pillars are: Eligibility, Service Connection, Impairment Rating, and Effective Date.
The most important pillar is Service Connection.
The pattern that I saw most frequently in failed VA disability claims was that the Veteran did not know the 4 Pillars of a VA claim, or the 5 Ways to Service connect a disease, disability or injury. Far too many Veterans either made the VA look for the needle in the haystack, or relied on just 1 of the legal theories of service-connection.
You can learn everything you need to know about proving VA Service Connection and the 4 Pillars of a VA claim in my 5 hour webinar. Don't worry, it's recorded, and broken down into bite-sized chapters so you don't have to watch it all at once and can come back to it any time you want. Click here to get your copy today.
Step #5: Use 5-Star Evidence.
Next to not getting a C-File, using bad evidence or the wrong evidence is the single worst thing you can do in your VA Disability Claim.  Most Veterans that had problems with the VA treated evidence like this: they hid the evidence in a haystack, and then griped at the VA for not finding the needle.
I believe that to successfully prove your claim, you will need to learn – and use – 5 Star Evidence.
Veterans need 2 types of evidence to prevail: Lay Evidence and Medical Evidence.  Lay Evidence is the Bullet, and Medical Evidence is the Rifle. And my Veterans Law eBook VA Claims Evidence Field Manual (The Secret to Proving Your VA Disability Claim) will teach you the basics of using both.
Vietnam Veteran Eddie T. said this about the Veterans Law Blog eBooks:
"I am a 100-percent Vietnam combat veteran, who has had the good fortune of working for VA in the capacities of adjudication clerk, claims development, and three-years of training as an adjudicator. It has always intrigued me how lawyers win VA claims for veterans, when we fail to do so. I now have that answer." 
 Step #6: Choose the Battlefield.
Many Veterans think of the VA Claims Process as a "Hamster Wheel" – and endless circle of claims, denials, and remands that never really gets them anywhere.  In this eBook, I try to explain how the process is better thought of as a ladder.
When we better understand the VA Claims Process, we can choose our Battlefield.  Certain battles – like effective dates and many impairment rating issues – cannot be easily won at the VA Regional Office.
They are often more easily won at the BVA.
Other battles need to be fought at the Veterans Court.  By understanding the VA Claims Process better, we can choose to stop fighting the wrong level of the VA, and push our claim into the forum where it is most likely to get granted.
Step #7: Protect Survivors & Dependents.
1 out of 3 cases that my Firm handles are for the surviving spouses of Veterans that died while their claim was pending at the VA.
There are some things that Veterans need to do – NOW – to protect their surviving spouses and dependents in the event that they die while their VA disability Claim is pending.
Preparing your claim for your survivor's DIC claim, or Accrued Benefits claim, is something that you can start doing now…believe me, it will make it much easier for your surviving spouse to recover Dependency and Indemnity Compensation or Accrued Benefits if the VA does not grant your claim before you pass away.
Step 8: Choose Your Representative Wisely.
Not everyone likes to change their own oil.  And for some folks, removing and cleaning the carburetor on a motorcycle is an impossible task.
When you are in over your head, seek out help:
Check out over 700 posts here on the Veterans Law Blog, where I post every weekday on VA disability claims topics.
Talk to other Veterans that have been down this road before, on sites like Hadit.com, the Asknod Blog, or on Facebook in groups like VAisLying.com,
I've written over 10 Veterans Law eBooks (I call them Field Manuals) that go into much more depth than even the lengthy posts on the Veterans Law Blog.  Click here to check out all the Field Manuals – including those that are about to be published.
From attorneys that are accredited to represent Veterans in their VA Disability Claims. (Here is a FREE eBook to help you figure out how to find and choose the attorney that is best for you in your VA Claim or Appeal.
I have to tell you – no blog, no Veterans message board, no Facebook group of Veterans, and no Veterans Law eBook can take the place of good legal advice from an accredited VA attorney.  The information I provide on this site in the Veterans Law Blog and Veterans Law eBooks are meant to be general guidance and education – not legal advice.
Legal advice will be narrowly tailored to the specifics of YOUR VA Disability claim.  These eBooks are general in nature – and designed to increase your education about, and understanding of, the VA Disability Claims process.
If you trust the VA, they are very  fond of telling Veterans that they don't need to hire an attorney – and I'm not telling you that you do.  But when you  get in over your head, Get Help.  Just make sure you get help from someone that knows what they are doing.
Watch your back when it comes to VSOs – read about how the VFW literally betrayed a Veteran they represented.  Read about a VSO that doesn't know the timelines in the VA Claims Process.
And watch your back with VSOs.
See What Other Veterans are Saying About the 8 Step Program:
The sooner you start using this process, the sooner you can change the way you experience the VA Claims Process.   Listen to what these Veterans said about how my 8 Steps and my Veterans Law eBooks helped them:
"[Y]our Ebooks would be my 1st step, if I had to do [my claim] all over again….Ask me now what I think your Ebooks and Documents are worth…..saved me a year or 2 on BVA appeal and at least $15K in legal fees."
(George D., Veteran) 
********** 
"Your book(s) were of immeasurable value to me. …The info in there has allowed me to get my claims back on track for the first time ever as the info in the file that was needed to support my claims was actually in the C-File all along and the VA has been dragging it's ass denying everything for over 3 1/2 years….for the first time in almost 4 years since I filed my claims, things are happening again…"
(Fred E., Veteran)
**********
"THANK YOU for all the great information I read and used in the Ebooks. I feel like "I Spent a Night @ the Holiday Inn Express". I'm more knowledgeable in a lot of areas. I HIGHLY Recommend to all Veterans' to purchase the eBooks. FIVE STAR PLUS rating."  
(Daniel T., Retired Army First Sergeant)
**********
"If you are new to the VA process and do not understand how it works (or doesn't), this is a good investment to help get your "Boots on the Ground". I have spent a lot of time over the last 3 years researching the VBA Decision site – this would have saved me some time."
(Virgil E., Vietnam Veteran)
**********
"I am a Vietnam war combat vet. This Guidebook shows veterans how to cut through the stalling and lies from the VA and force them to tell you the truth.  As a disgruntled combat vet, I give this FIVE STARS and a thank you to the author.
If the book contained nothing more than a … template … to get your VA records, it would be worth much, much more than it sells for.
(Ron Nesler, Vietnam Veteran, VAisLying.com)
**********
"I didn't realize how important lay evidence was.  Great job highlighting the common mistakes, too.  
This is an excellent and eye-opening book.  I'd recommend it to any Vet filing a Sleep Apnea Claim."
(Alex L., Veteran)
********** 
I have an insight now that I did not have until I found your website and the eBooks.
I feel I am better prepared to move my claim along. I feel as though I do not have to go through this process alone."
(Bill C., Veteran)
********** 
Veteran Bryant T. posted this on Facebook: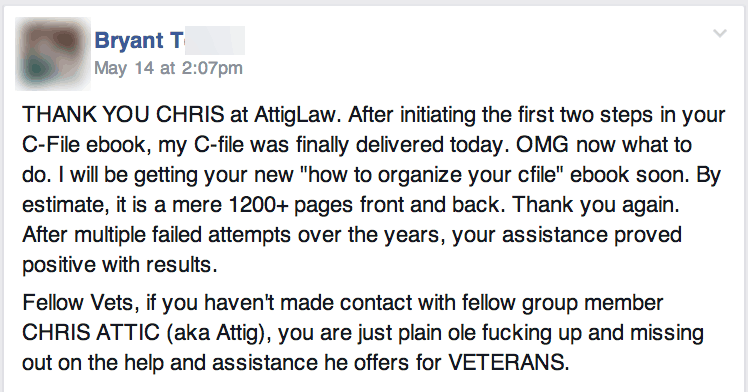 Veteran Thomas C. posted on Facebook about the Sleep Apnea Guidebook: