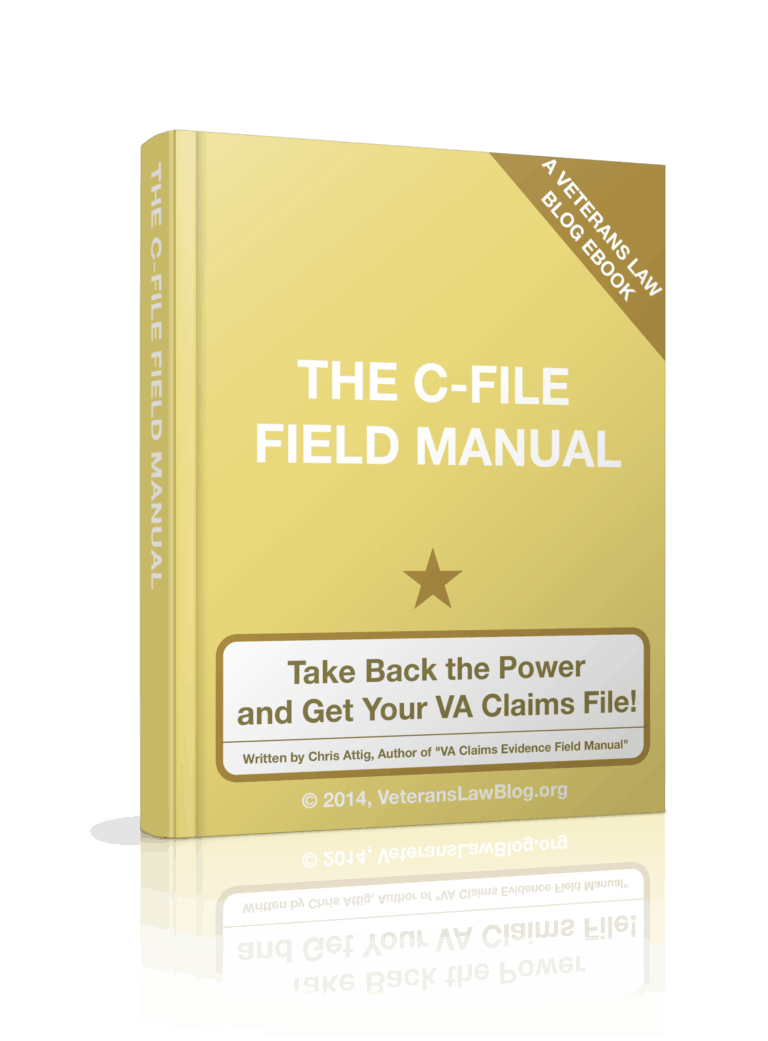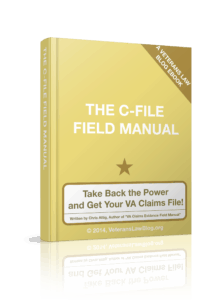 Do you have a copy of your VA Claims File (aka, VA C-File)?
If not, then you have just figured out 1 of the major reasons that the VA keeps screwing up your claim.
Other Veterans will tell you the same thing. Here is a quote from a Veteran on Facebook:
"The best advise that I can ever get a Veteran, or his family…..is contact the Veterans Affairs office by certified mail, and request a full copy of your "C-file", and yes you can get them. If they don't sent them then you can file in Federal Court…."
I have been saying this for years.
The VA C-File is – in my opinion – the single most important document in your VA claim or appeal.  Finally, folks are starting to listen:
My eBook (How to get your VA C-File) is the most requested eBook on our site.
Here's what one Veteran wrote about this eBook:
"Before reading the Veterans Law Blog's eBook, I had no idea about the importance of my c-file or how to obtain a copy.  — Gary A."
Over the years, I taught several DOZEN Veterans Advocates the same unique VA C-File requesting process I teach on the Veterans Law Blog.
What makes this process unique?
Simple:  it has teeth.  If the VA doesn't get your C-File to you within the time required by law, I show you how you can file suit in Federal District Court.
As far as I know, I am the 1st attorney in the US to advocate using this method of getting C-Files from the VA.
Though the law that allows for this  C-File Request process has been around since the mid 1970s, not many Veterans have known about it because attorneys have only recently (2007) been allowed to start representing Veterans before the VA Regional Offices.
You think a VSO is going to tell you about this method?  Puh-leeze.
I'll make you a deal:
Show me a VSO that routinely teaches every Veteran to request and study their own C-File, and I will publicly apologize to that VSO on video on this blog.  (I love being wrong about things like this, because it means MORE Veterans are getting MORE help from MORE people).
1. This is the only place that you might find your C&P results.
Here are some reasons that I think that the VA C-File is the most important document in your VA Appeal.
Remember that Compensation and Pension Exam you took at the VA Medical Center?   The results – and the form requesting it – are in your C-File.
In fact, if the VA is denying your claim because of a lack of "nexus" between your condition and military service, there is a really good chance that there is an adverse C&P Exam in your C-File.
I have only seen the C&P Exam reports in actual medical treatment records (where they might do some good in treating a Veteran) about 1 out of 1,000 requests.
What does that mean?
The C-File is probably the only place you'll find your C&P Exam Results.
2. The VA decision is based entirely on what is in – or not in – this file.  
Every level of the claim process looks at the VA C-File.
Every level of the claim process reviews it.
The DRO will carry it into your DRO Hearing or Conference.
Medical examiners have to certify that they reviewed it or their decision lacks legal credibility.
That's how important it is.
3. Without it, the VBA doesn't know anything about you.
Seriously – if the VBA (the benefits side is the VBA – the health side is the VHA) side of the house can't find your VA C-File, then they draw 1 of 2 conclusions:
Conclusion 1: You are not a Veteran
Conclusion 2: You never filed a claim.
I've also seen the VA deny claims because they cannot find the C-File, or parts of it. They conclude that the absence of evidence is evidence against the claim: one of the most common errors that the VA and the BVA makes.
4. Everything the VBA thinks they know about you is in it.This is very closely related to #3, above. 
If the BVA or VBA is issuing a decision that is adverse to you, it is because of what is in – or not in – the VA C-File.
It's that simple.
5. Code sheets.
Ever heard of a Code Sheet? I bet you haven't.
Every time the VA issues a Ratings Decision, they should attach a Code Sheet.
This Code Sheet tells me – the Veterans advocate – the claims that have and have not been service-connected, the Effective Dates, the Impairment Ratings, the method of service connection, the Diagnostic Codes used, and so much more.
The VA used to attach Code Sheets to the last page of the Ratings Decision, but in their efforts to streamline the claims process, they've decided that the Veteran doesn't "need to know" this information.
As they say in France: "au contraire mon frère" (To the contrary, my friend)
Its one of the first documents I look for in a VA C-File because it tells me SO much about the case.
Do you have your VA C-File?  If not …. why not?