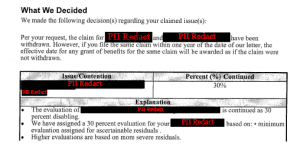 [Bonus Content For Annual Subscribers Only].  This 38 minute video is one of the perks of being an Annual Subscriber.
Sit down, grab a sandwich and a notepad – I'm going to spend 38 minutes teaching YOU how to pick apart aVA Rating Decision!
I don't know anywhere else you can get 40 minute long instruction and training on VA Forms besides the Veterans Law Blog.  So tell another Veteran about the benefits of being an Annual Subscriber.  Use the buttons at the end of this post to share it on Facebook, Twitter, Google+ or send an email to another Vet!
I promise you…it's only going to get BETTER from here.
There  2 of the different versions of the  VA Rating Decision.  Not every Regional Office is using the same format.   By the end of this Video, you will know:
* The first thing you should do when you get a VA Rating Decision.
* How  to properly calendar your Notice of Disagreement Deadline.
* The part that everybody skips over – and how it lays out your appeal
* How the VA's evidence list can help you structure your Appeal
* What parts of the Ratings Decision are critical, and which are  gibberish.
After this Screencast, hop on over and watch the Notice of Disagreement Screencast – 38 minutes long – giving you some practical tips and forms for structuring your Notice of Disagreement.
Video: Walk Through a VA Ratings Decision
NOTE: The first time you watch this video, it may take some time to buffer.  It's a fairly big file. If you are using Firefox as your browser, you may not be able to watch this video, due to issues with the Firefox software itself.  
Additional Resources on the Veterans Law Blog about the Notice of Disagreement:
Here are links to some other content on the Notice of Disagreement on the Veterans Law Blog:
The so-called "VA Decision Reconsideration": A GREAT way to Flush Money down the Toilet.
The C-File is – STILL – the most important document in your VA Claim
Can You Shorten Your VA Ratings Decision wait time?
External Links and Resources.
In the video, I referenced the National Organization of Veterans Advocates – here is a link to their website where you can find over 500 attorneys that are accredited to represent Veterans before the VA.
In the video, I referenced the VA's website – here is where you can go to download the most current VA Form versions.