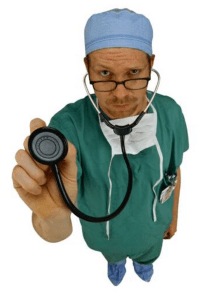 You will often hear that the VA is required to offer a C&P Examination toVeterans seeking compensation for a service-connected disability.
It is true that, as part of the VA's Duty to Assist, it may have to offer an examination to the Veteran seeking compensation or benefits.
When is the VA REQUIRED to Offer a VA Compensation Exam?
The BVA issued a recent decision in which it found that a Veteran was not entitled to a C&P exam for the portion of his claim having to deal with leukemia – because there was no evidence of a diagnosis of leukemia.
The BVA stated the criteria that it believes require the VA to offer a C&P exam:
The BVA said: "In determining whether the duty to assist requires that a VA medical examination be provided or medical opinion obtained with respect to a Veteran's claim for benefits, there are four factors for consideration. These four factors are:
In this recent decision, the BVA focused on the third factor, stating that it is a "low threshold"  and "requires only that the evidence indicate that there may be a nexus between a current disability or symptoms and the Veteran's service", including…
…equivocal or non-specific medical evidence, credible evidence of continuity of symptomatology, lay statements of pain and other symptoms, etc.
Why Wouldn't the VA offer a Compensation Exam (C&P Exam)?
If the VA did not offer you a C&P exam, there really are only two reasons:
the VA messed up and did not offer one when they should have, or
the Veteran didn't provide enough information to trigger the Duty to Assist.
If your claim for disability compensation was denied, and you did not receive a C&P examination from the VA, it is more likely than not that the VA made an error.
And then there is always the BIG problem in VA Compensation and Pension Exams….
That problem is that the VA doctors that are assigned to do them RARELY have expertise in the medical condition that they are evaluating.
Many VA Compensation and Pension Exams are – in my opinion and experience – "junk science".
Or the VA just sends you to someone that shouldn't be rendering an opinion in the first place – someone like a nurse or a med school intern.
How do you start to find these errors – or more important…..
How does a Veteran Go About FIXING His/Her Own VA Claim?
Here are a couple ways: