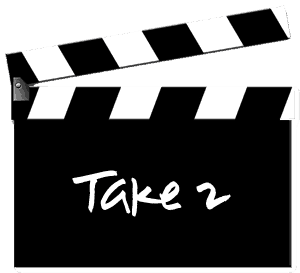 Can you get a "second bite at the apple" if a single judge at the Court of Appeals for Veterans Claims issues a decision that does not yield the right result in your VA Compensation Claims?
Can you get a "Second Take" on your Appeal through the reconsideration process?
While the Court of Appeals for Veterans' Claims (CAVC) talks directly to this issue in the El Amin decision in 2013,  I want to share some of the lessons learned in the El Amin case below so that you don't have to rely on getting a "Second Take".
First, let me tell you why I'm talking about this case in the first place.
The Court of Appeals for Veterans Claims issues a couple dozen or so precedential opinions each year.
Many of these decisions have big impacts, and so they get more coverage in the Veterans Law Community.  There are, however, a series of CAVC decisions that got "lost in the shuffle", but that provide a lot of POWER to Veterans in their Regional Office Appeals and BVA Hearings.
I intend to look at 8 of these case over the next 2 months, and talk a bit about how they affect the average Veterans VA Compensation Claims.
Today, I'd like to take a look at El Amin v. Shinseki, CAVC Cause No. 10-3131 (January 15, 2013).
Overview of El Amin. 
The story in the El Amin case is such a common story for surviving spouses of Vietnam Veterans.
The Veteran serves in combat and is later diagnosed with Post-Traumatic Stress (aka, PTSD). The Veteran's PTSD causes a new alcohol abuse problem – or aggravates alcoholism that was caused by something other than military service. The Veteran dies of cirrhosis of the liver, or other complications of the alcohol abuse.
The VA sees "alcohol" and – unless its at a VA sponsored training event – they turn a blind eye.
That's exactly what happened in this case.
The Veteran's survivor sought service connection of her husband's cause of death.  The VA denied service-connection.  The BVA affirmed the denial of service connection of the Veterans cause of death.
The CAVC – in a single judge decision – affirmed the BVA's denial.  But this Veteran's spouse – and the attorneys that represented her – weren't going to go away quietly into that good night.
They sought reconsideration and a panel decision from the CAVC.
DO NOT Confuse Reconsideration Requests to the Veterans Court  – a legal process that does exist – with VSOs that tell you to "seek Reconsideration" of a Ratings Decision.  
There's no such thing as VA reconsideration of a Ratings Decision – VSOs are screwing Vets left and right with this HORRIBLE advice.
The CAVC panel ultimately changed its mind and vacated and remanded the case to the BVA for more factual development.
(This is not a "dig" on the judge that wrote the initial decision – quite the contrary.  Veteran and Survivor disability compensation appeals can get very confusing, and the Reconsideration process at the CAVC gives the Court, and Veterans, an opportunity to "check their work" and make sure that they are getting the right outcome.)
Takeaway Points from El Amin.
I could tell you the legal questions presented to the court, and the Court's holding, but that is largely unhelpful to the Veterans and survivors who want to understand how to apply these cases before the VARO and BVA.
So, here are 3 take-away points from the El Amin case.
Takeaway Point #1:  The CAVC can only find error in a "factual conclusion" if the fact is "clearly erroneous".
A factual finding 'is "clearly erroneous" when although there is evidence to support it, the reviewing court on the entire evidence is left with the definite and firm conviction that a mistake has been committed.'" Hersey v. Derwinski, 2 Vet.App. 91, 94 (1992) (quoting United States v. U.S. Gypsum Co., 333 U.S. 364, 395 (1948)).
That's a high standard, and not one that I like to be in a position to argue to an appellate Court.
Unfortunately, so many Veterans spend so much time flooding the VA with information that is neither relevant nor material that they forget to make sure that the relevant and material facts are fully proved up.
For example, I saw one C-File recently where the Veteran felt that he established as fact his occupation prior to becoming 100% disabled in a TDIU claim.  However, the only evidence of the work he did was a sarcastic comment in a 21-4138:
"Do you think I can be an electrician with 2 knee replacements".
Sarcasm is not evidence, and if a Veteran's attorney can't prove to the CAVC that a fact is clearly erroneous, then the Veteran may be stuck with a bad decision.
There is a saying in the law: "Bad Facts make Bad Decisions."
Take the time to let go of the sarcasm, attitude and gruff demeanor when communicating with the VA.   Learn the law, the process, and the techniques to prove up your claim PROPERLY —  so that you don't get stuck with a bad decision.
Takeaway Point #2: Causation is of minor relevance in a claim for service-connection due to "aggravation".
This is a common BVA error – we just talked about it in a recent post, in fact.
Causation of a particular injury is, at best, marginally relevant, in claims for service-connection based on an aggravation theory.
In this case, the VA C&P Examiner concluded that:
"[I]t is this examiner's conclusion that there is no confirmatory or supportive evidence that the veteran's post-traumatic stress disorder caused his alcohol abuse, and thus it is NOT at least as likely as not that the veteran's [post-traumatic stress disorder] caused his alcohol abuse.").
Do you see the error?
You could be an alcoholic because you are a Chicago Cubs fan and its the only way to survive 105 years without a World Series Pennant  – but if your service-connected PTSD makes it worse, that is irrelevant.
You may be able to service-connect your alcoholism on an aggravation theory.
This is important for survivors – particularly when we get beyond the usual "alcoholism-cirrhosis" cause of death.
What about PTSD and Veteran suicide?
How about TBI and drunk-driving deaths?
Alcohol and drugs are a common coping mechanism for those with PTSD – diagnosed and treated or not – and alcohol and drugs cause death in so many ways.
The person left without a chair when the music stops is the surviving spouse and children, and the El Amin decision makes clear that there is a path to financial assistance available.
 Takeaway Point #3: If the VA improperly limits the scope of a IME or C&P Exam, and the BVA relies on that opinion, the BVA may have erred.
When the VA Regional Office – 0r the BVA – requests a C&P exam, they send a specific request to the examiner, outlining the legal theories that are at issue.
If the VARO or BVA improperly phrases this request for an exam, and the examiner does not opine on all legal theories, then BVA reliance on that decision may be error. Cf. Bielby v. Brown, 7 Vet.App. 260, 269 (1994).
So, before you go to the BVA or the CAVC, make sure that you have a copy of 3 documents in your C-File related to a C&P exam:
1) C&P Exam Request (from VARO to VAMC Examiner or Contract C&P Examiner)
2) C&P Examiner's Progress notes
3) C&P Exam Opinion.
Don't have your C-File?  How can you expect to argue that the VA is not properly examining your file if you don't know what is in your file?  Find out how to get a copy of your VA Claim C-File here.
Did this explanation help you understand how to use the El Amin case at the VARO or BVA?  If so, let us know. If not, tell u, in the comment section below, where we "missed the mark"