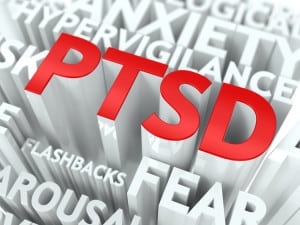 PTSD Claims are among the most challenging to get through the VA.
Why?
Several Reasons make claims for VA service connection of PTSD challenging.
1) Veterans facing limitations of this condition are already mentally taxed to the limit, meaning it is next to impossible to keep track of the VA red-tape in a PTSD service connection claim.
2) PTSD is a latent condition – meaning it doesn't always arise on the battlefield.  My own grandfather didn't experience this condition – it was known as shellshock – until years after he fought at the Battle of the Bulge.
This is why we are seeing so many Vietnam Veterans seeking service connection of PTSD – after decades of suppressing memories so that they could provide for their families, the slower pace of retirement is flooding their minds with memories of war.
3) The VA regulations governing PTSD claims are rewritten frequently.
Many of these "rewrites" are pitched to the gullible VSOs as being "Vet Friendly" or liberalizing rules, only to find out later that they are neither liberalizing nor veteran friendly rules.
4) The VA has created a "bottleneck", requiring that PTSD cannot be service-connected until a doctor – whose bread is buttered by the VA – concludes that there is the requisite nexus.
5) There is still a HUGE stigma associated with mental health conditions.  Somehow, if you have a disease that affects the neck down, you're a "hero".  If your disease affects the brain or "Brain Housing Group", you are treated like a blithering moron by folks that haven't got a clue.
So how does the average Veteran navigate a PTSD Claim?
I believe there are 4 Focal Points in a PTSD claim.
While they are not the ONLY thing that a Veteran needs to focus on in their claim for service connection, perfecting these aspects will more often than not yield a better experience with the VA Claims Process.
Focal Point #1: PTSD, the C-File and 5-Star Evidence.
If every Veteran with a PTSD claim got a copy of their C-File, and found out which elements of their claim was lacking "5-Star Evidence", they would drastically shorten the time it take s the VA to decide these claims.
The 2 most important "stars"?  Competent Evidence and Credible Evidence.  While important in EVERY claim, we need to approach competency and credibility of PTSD evidence a bit differently to have a better experience at the VA.
Knowing how much evidence the VA Claims Evidence Thermometer needs in a PTSD claim is also vital.  Some elements of a claim only need enough evidence to get you to the "at least as likely as not" level.  But other elements – like insulating your claim from a VA rebuttal of a legal presumption – will require more evidence.
Knowing the 4 Pillars of the PTSD claim, and how much evidence is needed to solidly build  each pillar is the number one thing that Veterans should know.
Focal Point #2:  Proving the PTSD Stressor Event.
After knowing HOW to build the  4 Pillars  in a PTSD claim, the second most important Focal Point is knowing how much you have to prove to establish – and corroborate – the stressor event. 
If I had a nickel for every-time a Veteran didn't know which TYPE of stressor event he/she was claiming, I could probably buy myself a seat in Congress.  Seriously, not knowing what TYPE of stressor you are proving up is one of the biggest reasons for wrongful VA denials of PTSD, and one of the biggest causes of delay in a military PTSD claim.
If your stressor occurred during combat, do you know what evidence you need to prove that the stressor occurred?
What if the stressor occurred in a combat zone, but not during actual combat?
If your stressor event occurred during a friendly fire casualty situation, will the VA consider this combat?
How much 5-star evidence do you need for a non-combat stressor?
Is Military Sexual Trauma your "stressor event"?
Focal Point #3: The PTSD Diagnostic Exam.
A good Diagnostic exam is like a bowling ball that hits squarely between the #1 and #2 pins: some shit is going to fall right into place with a good Diagnostic Exam.
A good Diagnostic Exam follows – RIGOROUSLY – the diagnostic criteria of DSM-V.   (New decisions should NOT use GAF scores, but older appeals may still involve them)
It can establish your rating, and when done properly, can help to corroborate certain stressor events.  It also will largely ignore the GAF Score if your VA or private psychologist or psychiatrist assigned one.
Done properly, it can also be a very strong piece of evidence that a VA C&P Examiner cannot attack or rebut when making the ultimate nexus determination.
Focal Point #4: The  Impairment Rating in a PTSD Claim.
In any mental health claim, there are only a handful of impairment ratings available: 0% – 30% – 50% – 70% – 100%.
Knowing what limitations and diagnostic criteria apply to the various levels can effectively streamline even the most challenging of  claims.
Moreover, this condition does not always appear in a vacuum.
I have no statistics to back this up, but I rarely see a Veteran with JUST a diagnosis of PTSD. Often, they have anxiety and adjustment disorders, depressive disorders and conditions, and a whole host of other mental health limitations.
Understanding how the VA rates Veterans with multiple mental health conditions can give you a HUGE advantage in more efficiently moving through the VA Claims Process.
Summary of the Focal Points in a PTSD Claim.
If you can "nail" these aspects of your VA PTSD claim – meaning don't wait for the VA to develop these elements 0 you should be able to have a better VA experience:
1) Know the 4 Pillars of a PTSD Claim and KNOW what evidence is and is not in your C-File already.
2) Know how to prove up your UNIQUE type of Stressor Event.
3) Get a solid Diagnostic Exam.
4) Learn how to provide 5-Star Evidence to get you the Impairment Rating you deserve in a PTSD claim.
What do you want me to tell you about PTSD claims?
Submit your Question to the Veterans Law Blog using the green button in the lower right corner of any page on the Veterans Law Blog.