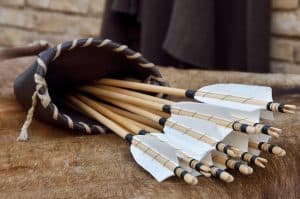 Getting an earlier effective date can dramatically change how much past-due benefits you receive in your VA Claim or Appeal.
So when you handle your own VA Claim or Appeal, you are going to want to know as many ways to get an earlier effective date as you can uncover.
Let's dig in and discover a couple ways to go about this.
What is an Effective Date?
The Effective Date is a really important part of a Veterans Disability Compensation Claim.
I describe them as the 4th Pillar of a VA Claim.
Effective Dates  govern how much a Veteran – or a surviving spouse in an accrued benefits or DIC claim –  might receive in past-due benefits.
They can often be a determining element in other types of benefits the Veteran might want to apply for.
For example,  survivor benefits and pensions,  state property tax exemptions,and more turn on the proper selection of an Effective Date in a Veterans disability benefits claim.
In addition, many cities, counties, states and private companies have benefits for Veterans that may well turn on the selection of an Effective Date.
A Veteran seeking an Earlier Effective date for entitlement to VA benefits that is earlier than the one decided by the VA Regional Office really has just 2 options to get an Earlier Effective Date.
Which option you choose largely depends on the status of the decision that first assigned the effective date.
If There's Still Time to Appeal an Incorrect Effective Date, Try Option #1.
If the decision assigning the effective date has not become final, the Veteran – or Surviving Spouse –  may file a direct appeal challenging the Effective Date.
The Direct Appeal is done by filing a Notice of Disagreement.
Decisions on Effective Dates become final when a deadline to respond passes without a response from the Veteran.
For example, here are 3 of the biggest reasons that Effective Date Determinations become final (these are not the only ways, just the big ones):
* 1 year after the Ratings Decision – and no NOD has been filed.
* 60 days after the date of the Statement of the Case (SOC) – and the Veteran did not file a VA Form 9.
* 120 days after the date of a BVA Decision, unless an appeal of that BVA Decision is filed with the Court of Appeals for Veteran's Claims.
If your appeal period has not ended, and your VA Ratings Decision is not final, then filing a CUE claim is a very bad idea.
Why?
The VA drags their feet on CUE claims, and in the end, almost always denies them.
So by filing a Premature CUE Claim, you are giving up a way to properly appeal an adverse decision and, in all likelihood, giving up a right to your original effective date for a claim that the VA is not going to grant anyway.
If Your Effective Date Decision is FINAL, Try Option #2.
If the decision assigning the effective date has become final, the only means by which a Veteran – or their surviving spouse –  may be able to obtain an earlier Effective Date is by a collateral attack on the regional office or the decision of the Board of Veterans' Appeals that assigned the effective date.
That collateral attack is done through what is called a "CUE" claim, or a Motion to Revise an Effective Date based on Clear and Unmistakeable Error (CUE).
Now, to be sure, this isn't the only type of CUE Claim.
I looked at a C-File a couple weeks ago, where the Air Force officially corrected a soldier's medical records to say that a  soldier had contracted a particular disease while on Active Duty in the Air Force.
They wrote a fancy memo on Air Force letterhead, and an honest to goodness flight surgeon signed the letter.
The VA ignored it, and denied the Veteran's claim for service connection of that condition.
The Veteran didn't appeal, and he came to me about 3 years after the Ratings Decision denied the claim.
My typical approach would be to first Reopen the Claim for Service Connection with some New and Material Evidence, get the Veteran service connected, and then appeal the denial of the original effective date.
Once that appeal was exhausted – I might file a CUE claim to get the earlier effective date.
However, in this case, we opted to go with an approach of filing a CUE claim first, since the error was so clear, and so unmistakeable, that I felt that while the VARO will certainly deny it, no BVA Judge could make a cogent argument that there was not CUE.
Point is – the CUE claim in that example went to the element of nexus.
But I much prefer, wherever I can, to use the traditional appeal process or the reopened claim to deal with the first 3 Pillars of a VA Claim, and save CUE claims to protect the Effective Date.
Be smart about it, do your reading, and make your own decision.  Just be careful with CUE.
The CUE Claim for an Earlier Effective Date Can Be Dangerous!
CUE Claims are some of the hardest claims that a Veteran can make.
I'm NOT saying that you should not file a CUE Claim – they are another Arrow in the very small Quiver that Veterans are given.
Just go into a CUE Claim with your "eyes wide open", and spend a lot of time researching the law.
Legal Search Tip: If you are searching Veterans Court and BVA Decisions on the issue of "Effective Date" determinations, the BVA and the Court sometimes refer to effective date appeals as one type of "Downstream Issue".  It's an archaic term, and one that I try to use as little as possible – far too often, the BVA refuses to adjudicate Impairment Ratings and Effective Dates because they are "downstream issues".
Use of this term paints a "rosy picture" of the claims process, and in my opinion is one of the subtle ways that the BVA condones a 3-5 year (or more) wait for benefits owing to the Veteran. 
Here are 3 things I want you to think about as you prepare a CUE Claim:
1)  A CUE claim requires a specific kind of error .
The error must be so clear that reasonable minds could not differ in reaching a particular conclusion, and one where the result would have been manifestly different but for the error.
A CUE claim is often not a claim involving interpretation of fact (although it can be); more commonly it is an administrative failure to apply the proper statutory and regulatory provisions to the correct and relevant facts.
2) CUE Claims have to meet special pleading requirements.
CUE Claims can be raised at the Regional Office or at the Board of Veterans Appeals (BVA). Depending on where and when it is raised, there are certain things you need to include.
This is one of the rare instances in a VA Disability Compensation Claim where the Veteran is best served by a claim that pleads with specificity.
3) CUE Claims can be Really Dangerous.
Most Veterans are too quick to file a CUE Claim.  Here's an example.
I looked at a Veteran's C-File a couple weeks ago.
The Veteran filed a Motion to Revise an Effective Date based on Clear and Unmistakeable Error (CUE).
However, the Veteran's appeal of the decision that got the Effective Date wrong was still at the BVA.  When the BVA issued a decision on the Effective Date – of course denying it – the VA had a GREAT argument that the Veteran's CUE Claim was "subsumed" by a Final BVA Decision on the same issue.
(This rule about a BVA Decision "subsuming" a 'CUE Claim' is tricky business folks, and it's easy to get yourself in a pinch.  The result I described above is NOT always the outcome – but in far too many cases that I've reviewed, Veterans make their CUE claims harder – or impossible – by not waiting until all other avenues of TIMELY appeals have been exhausted).
And then there's this trick that the VA tried to play with us when we filed an Appeal to the Veterans Court alleging that the BVA erred in not adjudicating a so-called "CUE Claim".
I'll write more about CUE Claims in the future – for now, it's enough to know that they are REALLY  tricky.
If you intend to file – or have filed – a CUE Claim, there is no substitute for a discussion with  an accredited VA Attorney about your case.