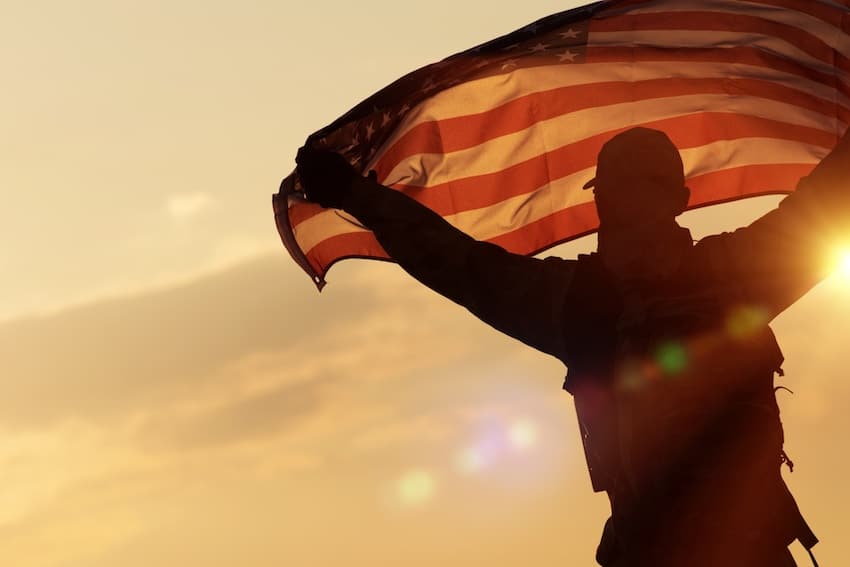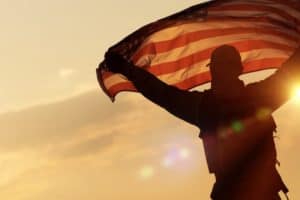 The story I am going to tell you blows my mind.  
Not because it shows you how one Veteran used the knowledge on the Veterans Law Blog to change his life and his VA Claim – dramatically – in under 6 months.
It blew my mind because I'm hearing this story from several Veterans every week.
I am realizing that the Veterans Law Blog is – every single day – achieving my Vision:
Teaching Veterans  that they have more Power over the VA in their VA Claim than they think and that, by taking back that power, we as Veterans have the ability to make dramatic changes in their VA Claim and …
… more important …
…  make dramatic improvements in our lives.
Meet Navy Veteran Jason Roberts.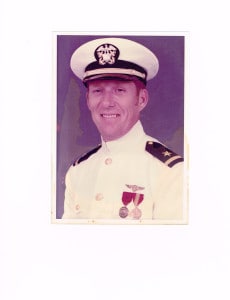 Jason Roberts (he asked us to change his name for privacy reasons) served in the Navy  from 1967 – 1990.
As a result of his career in the Navy, he had a condition called prostatitis.
Simply stated, prostatitis is a chronic infection of the prostate, and can cause frequent and painful Urinary Tract Infections.
For that condition, after he filed a VA Claim, the VA assigned him a 10% disability rating.
Later in life, Jason was diagnosed with Prostate Cancer.
He believed his prostate cancer was related to his military service – at the very least, he knew it was the result of extensive and chronic and painful UTIs  (Urinary Tract Infections) from his service-connected prostatitis.
For a long time, Jason had wanted to file another VA Claim and increase his VA Disability Rating to cover his prostate cancer.
But everyone he talked to – Veterans, VSOs, you name it – told him that it was impossible to get 100% for a VA Claim for prostate cancer resulting from his UTIs  & prostatitis.
That's when Jason found the Veterans Law Blog.   
He started reading, and realized what I want EVERY Disabled Veteran battling the VA to realize about their VA Claim:
The VA is incredibly challenging to deal with – but with a  well-researched, well-documented, and cleanly presented VA claim, Veterans might just have more Power over the VA than they realized.
Here's What Jason did to Solve this VA Claims Problem:
He purchased the following from the Veterans Law Blog:
In other words, he spent a total of about $209 (and change).
Then, he followed these steps in his VA Claim:
Obtained all of his medical records that documented his urinary tract infections, years of taking antibiotics, etc.
Provided up to date medical reviews from the internet,
Provided lay evidence, including his personal overview and his wife's overview.
Submitted all of the forms and provided all of the information required by the VA.
I asked Jason what on the Veterans Law Blog helped him the most, and here was his reply:
"Of the products that I purchased from you I think "How to Get and Use your VA C-File" was the most helpful. I was able to submit a very strongly worded request that left me no doubt I would get a response. I received my C-File in about 2 weeks and it contained vital information that significantly improved my chances of approval."
Jason presented all of this information in his VA Claim in a 3 ring binder that included an easy to follow, fully tabbed and logically presented package.
Note from the author:  THIS is a subtle change that has a huge impact.  The more helpful you are in making your VA Claim organized and easy to understand, the more likely you are to find a VA employee that WANTS to grant your VA Claim.
The VSO that helped him with the actual filing of the claim was astounded at his submission package – the VSO stated that  he usually just gets the required forms from Veterans.
Here are the Results Jason experienced in his VA Claim:
I'm going to let Jason describe – in his own words, how the Veterans Law Blog Field Manuals and Training Videos helped him:
"When I first started this journey everyone I talked to told me how impossible it is to get 100% for prostate cancer as a result of Urinary tract infections/prostatitis. Your eBooks, training videos and the Veterans Law Blog were the deciding factor to take on the challenge.
All I did was follow the steps that you provided and presented a professionally researched and documented package to the VA, just like you recommended.
After purchasing the training materials in July 2015, and using the methods to proving a claim you teach, I was awarded 100% for prostate cancer plus SMC- K with a payout of $3172.13 per month in January 2016.
The VA back-dated my claim to July 2008, and the VA is paying me over $200,000 in past-due benefits.
It wasn't easy, but it was worth the effort.
If I can do it, anyone can do it. All anyone needs to do is follow the Veterans Law Blog formula:
We have the power when we have the knowledge!"
Now, I'm not going to sugar-coat things: Jason told me he put in a LOT of time and work to get this packet put together so he could file his VA claim in just about 60 days.
Take a look at the binder of evidence he assembled and organized: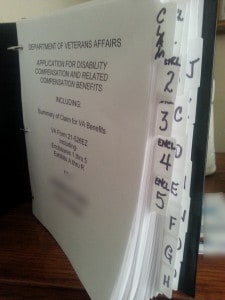 But because he was willing to get the knowledge and do the work, Jason realized how much power and control over the VA he really had.  
Unlike many of our brother and sister Veterans, he did NOT:
Ready to get started taking back the Power in Your VA Claim?
Think about this story for just a minute:
Here we have a Veteran with a 10% rating for his service-connected disability. 
That's $135 (ish) a month.
The Veteran realizes that the VA isn't properly compensating him, so he purchases $155 in training materials from the Veterans Law Blog.
In less than 6 months, he wins a VA claim that many said was impossible, and now the VA is paying him 100% disability plus Special Monthly Compensation – over $3,100 a month. 
On top of that, he has almost a quarter of a million dollars in the bank.  
Wisely invested, that will be more than enough money to provide:
Financial security for his wife and survivors;

Opportunity to move into the house on the beach he and his wife have always wanted

Assistance to a sister that is financially struggling (Jason told me one of the first things he did was buy his sister, who is financially struggling, a reliable car to help her get her feet back on the ground)

A substantial increase in monthly take-home….non-taxable…income

Donation to a Non-Profit organization he has long supported
We as Veterans wrote a blank check with our bodies many years ago….
… with knowledge, good old-fashioned "elbow grease", and determination, we can recover the benefits we were promised.
And change our lives for the better.  Almost overnight.
We DON'T have to be victims of the VA – unless we choose to be victims!
Jason probably says it far better than I could:
"I don't think that words can properly express the thanks and gratitude that you deserve for the invaluable information that you provide. Your information gave me the knowledge and confidence to submit a winning, life changing claim to the VA."
So, if you are ready to get started on Taking Back the Power in your VA Claim, here are some steps you can research to see if they are right for you:
Stop in to my  Facebook page and check out my LIVE pop-up videos and hundreds of recorded instructional videos.  
If you have experienced similar results using the Veterans Law Blog® method, send me an email or, better yet, message me on Facebook if you'd like me to tell YOUR story
©2016 – present, Veterans Law Blog®
First published: January 22, 2016
Use of this content without the express and written consent of Chris Attig is forbidden.