If there is just 1 form that is critical to any BVA Appeal, it would likely be the VA Form 9.
What is VA Claim Form 9?
The VA Form 9 is the  VA Claim Form Veteran's Substantive  Appeal.
It must be filed within 60 days of the date that the VA stamps on the front of the Statement of the Case (aka, SOC).
This document is crucial for 2 reasons.
First, if you don't file it, your appeal to the BVA is likely "dead in the water".
Second, it lays out the full scope of your arguments and facts, and serves as a "working outline" of your claim for the BVA Judge (or law clerk) that will decide your case.
Watch this Screencast and learn how you don't ACTUALLY have to file VA Claim Form 9.
What happens after you file the VA Claim Form 9?
In all likelihood, a whole lot of nothing.
You might even get an email like this from the VA (although it took my client almost 3 weeks to get this email reply from the VA):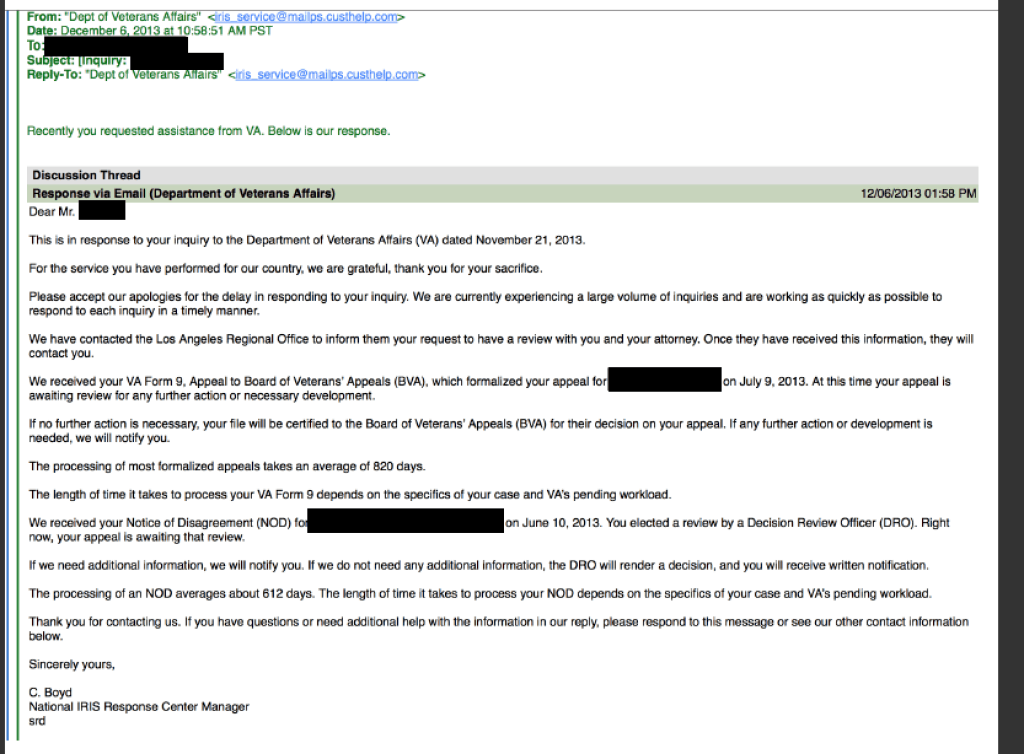 Just so we are clear – 820 days is 2 years and 3 months.
During that time, they say that they are "developing the record"  – but this doesn't pass the "smell test".
What was the VA doing in the 500+ days it takes to develop the record before the decision?
Or the 612 days they say they are going to spend "developing the record" after you filed your Notice of Disagreement.
The VA's excuse of "we are developing the record" is not helpful – not because its untrue (although it  probably is).  It is not helpful because it doesn't help anybody figure out a solution to the problem.
Except the folks that are trying to make a profit off the backlog, that is.
What can you do while you are waiting?
On this blog – I recommend that you learn how to develop your own claim – then you won't wait 500+ days while the VA doesn't do the work.
I'll teach you how I develop claims and appeals in my training module: "How To File a VA Claim" – scroll down for a SPECIAL LIMITED OFFER on that Training Module.
But if you want to wait, you can do a lot in 2 years and 3 months:
8) Most newborn babies can learn to TALK and possibly WALK in 2 years and 3 months.
7) You  can get a Law Degree.  The cool thing about this is that you can help other Veterans get their claims decided many times over while you are waiting…seriously…let me know if you do this, I can ALWAYS use a good attorney to help out.
6) You can complete Basic Training for Astronauts.
5) You can walk around the Earth at the Equator — at least TWICE.
4) This guy did all sorts of stuff in 2 years – check out his impressive list.
3) You can run for the House of Representatives  and raise $3 – 9 million dollars in 2 years.  Frankly, this may be a decent option:  you could pass a law that allows YOU to buy the VA, and grant your own benefits.
2) If you were a Civil War Soldier, you could  complete one deployment to combat.  Modern US soldiers deploy to combat zones for upwards of 3-4 years or more.
1) You can sit on  a toilet seat for 2 years (I'm serious – you HAVE to read  this story).
Kind of puts things in perspective, doesn't it.
There really has to be a way to cut down on the 2+ years it takes to get a BVA appeal certified.
And I want to find out how.  Seriously, this isn't griping and complaining here, folks:  I would LOVE to really understand the causes for this particular delay.
Why?
If the millions of Veterans that have visited the Veterans Law Blog over the  years could understand the problem better, we could help by improving our claims — we could  streamline the process for everyone.
UNIQUE TRAINING PROGRAM FROM THE VETERANS LAW BLOG.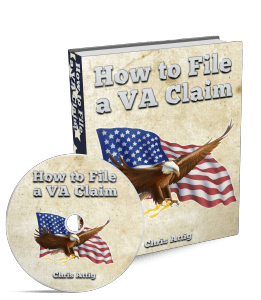 The How to File a VA Claim Training Module includes:
an hour of video,
4 VA Claims Field Manuals
a workbook to help you develop your own VA Claim
My unique "VA Claims Map" to help you stay organized