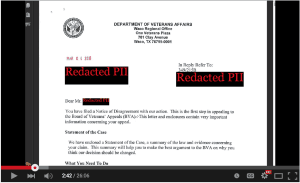 Live Walk-through: VA Statement of the Case Example.
This walk-through video is actually a screencast video.
A screencast is a video recording of my Computer Screen – it allows me to talk you through documents and explain them to you without having to bring a video crew into my office.
I've gotten a Veteran's permission to share with you his single issue Statement of the Case to explain to you what the Statement of the Case is, how to read it, and what information is – and is not – important on this form.
After watching this video, you will have learned:
* How to calculate the CORRECT deadlines for filing your VA Form 9
* What a Statement of the Case looks like.
* The 4 Parts of the Statement of the Case that you NEED to understand and verify
* Tips to make your arguments in your VA Form 9 BETTER based on what you read on the Statement of Case
* How to tell if the VA made some basic errors in denying your claim.
* Much more!
Tell me if you like these screencasts – they are a lot of fun for me to do, so if they help, leave a note in the comments section below….