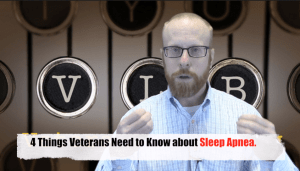 I get asked more questions about how to file and win a VA sleep apnea disability claim than almost any other topic in all of VA Benefits Law.
True story.
And I've been getting asked these questions for years.
On top of that, for almost a decade, I noticed  that Veterans of all eras were seeking my help – from Vietnam to Cold War to Afghanistan and beyond – appealing their VA Sleep Apnea disability denials.
In short, I was seeing the sleep apnea disability hit the Veterans community like a typhoon!
So a few years back, I started trying to figure out WHY the sleep apnea disability was such a problem in the Veterans community.
I asked:
* Why were so many Veterans seeking service connection for sleep apnea?
* Why was sleep apnea affecting Veterans across all generations
* Why was it so hard for so many Veterans to win their VA sleep apnea disability claims?
I talked to doctors (cardiologists, pulmonologists, sleep specialists, and more) about the 3 different types of sleep apnea disability diagnoses.
I talked to hundreds of Veterans (from just about every era) and looked at dozens of their C-Files to see if I could figure out why some Veterans won their VA Sleep apnea disability claims and others did not.
I read just about every BVA Decision I could find on VA Sleep Apnea Disability appeals for  a whole year.
Along the way, I ran into the same old "junk-science" that has invaded the older generations (and some of the newer generations) of VA Raters and BVA Judges: the fairy tale that sleep apnea is all about obesity and neck girth.
Trust me when I tell you this: a VA Sleep Apnea disability diagnosis has little or nothing to do with obesity and neck girth.
In the end, I wrote a book about how to claim and service connect the sleep apnea disability through the VA.  (Click here if your prefer eBooks…..click here if you prefer paperback…..click here for an eBook bundle)
But I also learned a few extra things that I would like to share with you about the VA Sleep Apnea Disability claim.
And that's what today's video is all about:
4 Things that Veterans Need to Know about VA Sleep Apnea Disability claims.