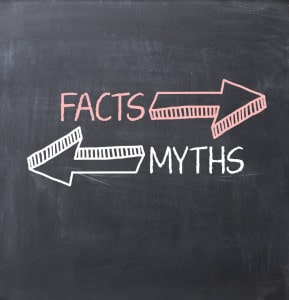 I'm a rarity among Veterans Benefits attorneys – not only am I active in social media, but I personally post and respond to Veterans questions in several Veterans social media groups.
Because I'm out in the groups where Veterans are talking about their VA claims, I get to hear and understand your concerns a lot more than other VA Benefits attorneys.
Every few weeks, I stumble across a thread that is critical of VA Disability attorneys.  Here are the scenarios I usually see:
* Someone had a bad experience with a VA Disability lawyer, and they are bad-mouthing that firm or attorney.
* Someone was turned down by a veterans disability lawyer for legal representation
* Someone has been working with a VA disability attorney for months and years and it doesn't seem like their claim is getting anywhere.
That's when the "Myths" start coming out.
Veterans who have had bad experiences with VA disability lawyers – and sometimes VA  moles in certain Facebook groups whose seem hell bent on bashing attorneys that help Veterans – start spreading the myths about VA benefits attorneys.
Over the past year, I have collected 6 of the biggest myths about VA Disability law firms  – and I'm going to attempt to dispel those myths in today's post.
6 MYTHS about Veterans Benefits attorneys in VA Claims.
MYTH #1: You cannot hire a Veterans Benefits attorney until you get a BVA Decision.
This USED to be the law: before 2007.
In June 2007, Congress passed a law that allowed Veterans to hire a VA Benefits attorney after the VA first denies your claim.
The fact of the matter is that you hire a  VA Disability lawyer at ANY time in the VA Claims process.
Some VSOs and attorneys tell you that you can't hire an attorney until you file a Notice of Disagreement.  This statement is patently FALSE:  here's the  TRUTH.
MYTH #2: VA Disability attorneys won't take your case unless there is a lot of Money.
This myth is just going to last forever, I fear.
It doesn't help when a Judge on the Veterans Court perpetuates the myth with a very cynical poem in an opinion of the Court of Appeals for Veterans Claims.
But here's the truth:  I know a lot of veterans disability lawyers. In fact, there are over 500 of us nationwide.
Every VA disability attorney that I know has specific criteria for the types of cases they like to work.
Last week, I talked to a VA Benefits attorney that really likes working back and neck injury cases.
I know another law firm that only takes cases where the Veteran has a mental health condition.
And I talked recently to a new VA disability lawyer that wants to focus only on TBI cases.
Now, it is true – VA Disability law firms have to make money to stay in business.
If that VA Disability law firm doesn't stay in business, they cannot represent Veterans.
So some decisions by law firms do involve financial considerations: for example, my firm will not take a case where the projected costs of expert witnesses will exceed the past-due payable to the Veteran.
Why not?
We don't want the Veteran to go "in the hole" because of our representation.
Bottom line: I don't know a single VA Disability lawyer that represents Veterans to "get rich".
In fact, many of us believe very strongly in securing due process and equal protection of the law for Veterans – even if it means that we don't make a lot of money.
MYTH #3: Veterans Disability lawyers delay your cases to run up the fees.
When I hear this criticism of Veterans disability attorneys, I know that I'm talking to someone that doesn't understand business.
We all suspect that the VA practices a "delay until they die" approach, right? So how is it a good business practice to drag out a case if the Veteran stands the possibility of dying before any benefits are paid?
VA Disability attorneys are in the business of getting cases decided for their clients – before their clients die.  If the Veteran dies while the claim or appeal is being processed, then the Veterans and the VA Benefits attorney do not get paid.
The surest way to run my veterans disability law firm into the ground is to "sit" on cases and wait for the VA to act in the hopes that I will get a bigger fee.
And, to be honest, my law firm is cut from a different cloth than other VA disability law firms.  I believe – strongly – in 2 things:
#1: Most Veterans have the ability to take back the power and improve their own VA claims and appeals, and don't always need a VSO representative or a VA Disability lawyer.   Y'all just need a bit more education, knowledge, and understanding of how the VA Claims Process REALLY works.
#2: The lawyer has an ethical duty to educate the public about the law.  I do that by writing this Veterans Law Blog every weekday – since 2007.  I do this by putting my knowledge about, and experience in, the VA Claims process into books that help More Veterans get More Information – and More Power in their VA Claims.
I've written over a dozen books to teach Veterans how to improve their VA Claims.
Got a sleep apnea claim? I've written an ebook and put together a sleep apnea training program that can help you improve your sleep apnea claim. The Sleep Apnea field manual is available as a paperbook, here.
Need help with your TDIU claim or appeal?  I can teach you how to make your TDIU claim better and stronger.
My "How to File a VA Claim Training Package" has helped many Veterans prove and win their VA Claims – the right way, the first time.
You can also learn more in-depth info about the 5 paths to service connection, the VA Claims Process, and much more.
MYTH #4: VA benefits lawyers don't know anything about VA Benefits.   
For the most part, Veterans Benefits attorneys are knowledgeable and experienced attorneys that know as much about VA Benefits as the most competent VSOs out there.
And, VA Disability lawyers have an ethical duty to become competent in the area of law in which they practice.
Unfortunately, there is a morsel  of truth in this myth: every year, I run into an attorney or two that thinks they can jump into the representation of Veterans without studying and becoming knowledgeable about the basic law governing VA Benefits Claims.
Most of these folks are gone from the practice within 6 months. Programs like this one – where the VA perpetuates its paternalistic approach to Veterans and encourages untrained "pro-bono" attorneys to "help" Veterans are the source of most of these "bad apples".
When you look for a VA Benefits attorney, I strongly recommend that you look for several indicators that the attorney is competent to represent Veterans.
One of those indicators is that the attorney should be a member of the National Organization of Veterans Advocates (NOVA).  NOVA is the "gold standard" for the training and education of VA Disability attorneys.
NOVA has 2 annual seminars (lasting 2-3 days each), in which hundreds of attorneys (many Veterans themselves) keep up to date on changes in the law.
Throughout the year, NOVA offers training courses and webinars meant to help their members become more knowledgeable about the nuances of VA Disability law.
When you want to hire an attorney, use my free eBook to learn how to choose the best attorney for you and your claim. (or get the paperback version here).
MYTH #5: Nobody helps you once you hire a VA Benefits attorney.
I heard this one on Facebook the other day:  don't hire a Veterans Benefits attorneys – the VA will "stone-wall" you and you will get nowhere.
This is patently false – and here is a story to show you how untrue it is.
MYTH #6. My friend's VA Disability attorney is the Best.
I get this email all the time – a Veteran says something like this: "My friend says that your firm is the best at representing Veterans – I want you to help in my case.
Listen – don't choose your VA Disability lawyer based on the one that worked best for your friend.
* Your friend may have the perfect wife or husband. Doesn't make him or her the right spouse for you.
* Your friend may have the perfect car.  Doesn't mean that its going to fit your needs.
* Your friend may have the perfect job. Doesn't mean that its going to be the best job for you.
I want you to choose the veterans disability lawyer that is best for YOUR claim: choose one with the knowledge, experience, and skill to be able to effectively advocate for YOU.
Choose the VA Benefits attorney that YOU get along with and want to work with.
* What professional credentials to consider in a Veterans Benefits attorney.
* Why a VA Disability attorney's success rate is the LEAST important question a Veteran should ask.
* How a veterans disability lawyer's case volume and experience may affect you.
* How to determine whether the VA Disability lawyer is a good fit for you.
* What a law firm's  Internet presence might say about the veterans disability lawyer.
Bottom line: if you need help in your VA claim, and decide to hire a VA benefits law firm, choose the attorney or lawyer that is right for YOU and YOUR VA Claim.