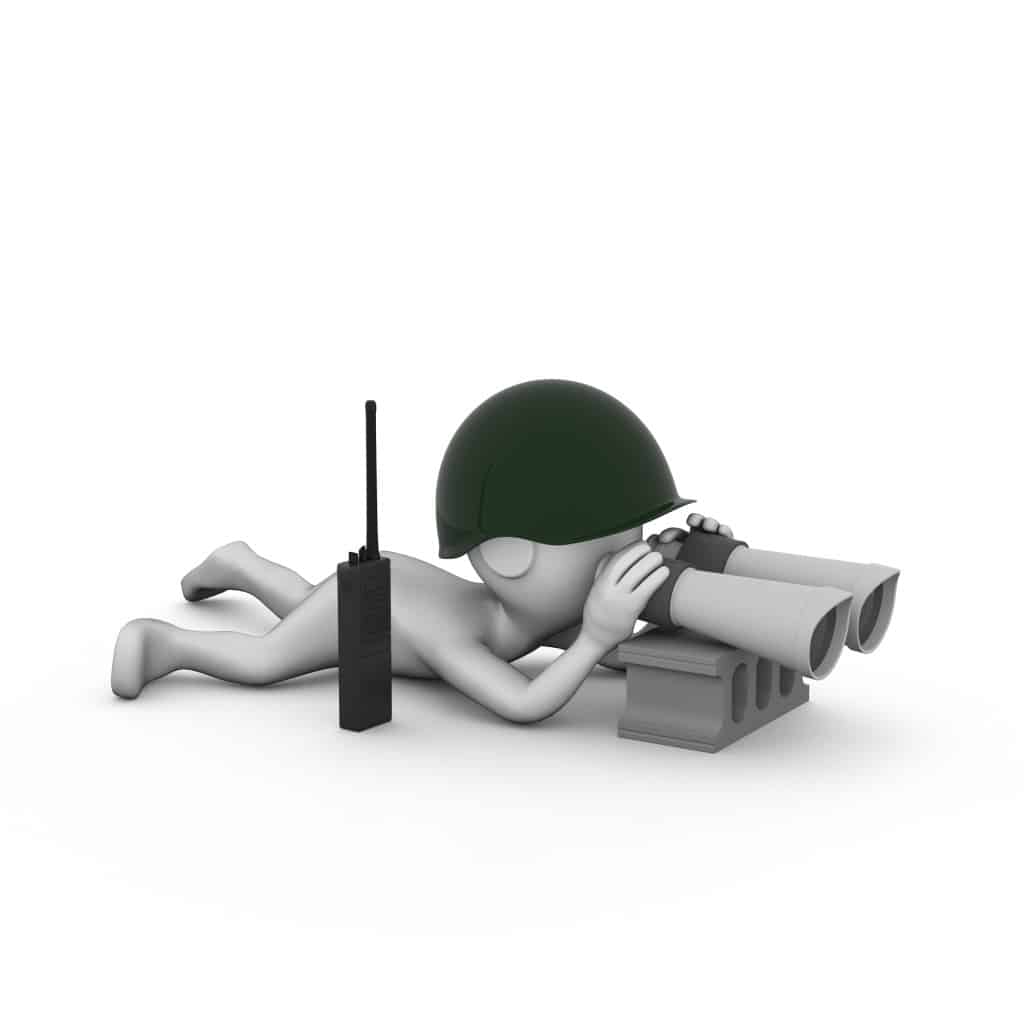 Do you know what the #1 Complaint I get here at the Veterans Law Blog is?
Take a guess.
My utter disregard for proper punctuation?  Nope.
Is it the fact that my training books and videos are for sale and not given away free?  Nope.
One more guess….did you guess this:
My VSO isn't Doing Anything on My VA Claim!
Every day I'm swamped with these stories in my inbox.
I see them in the comment sections on this blog.  I see them throughout social media – on Facebook and Google+.
They are the same things:
….My VSO filed my claim and won't return my call.
…My VSO told me not to pursue this claim or that claim…..
…My VSO told me to just be happy with the ratings I got and stop seeking everything I'm entitled to….
…I never talk to the same VSO Representative…it's always someone new that doesn't know my claim from the other hundreds they are handling….
…My VSO sold me out to the VA….
Even with all of these horror stories about VSOs, there are a lot of Veterans telling Veterans NOT to hire an attorney – simply because attorneys charge a fee for representation.
I don't have a dog in the VSO verse attorney fight – I think Veterans have the right to choice of representation, so it is incumbent on all Veterans Advocates….VSO, attorney, agent, family-member….to help Veterans make the right choice for their claim, and then respect that choice.
Telling a Veteran they shouldn't hire an attorney is the worst thing you can tell a Vet … we  should NEVER discourage any Veteran from using the type of representative that they want to use.
Why?
Every Veteran is different.
Some Veterans have complicated legal issues that only a lawyer can fix.  Don't believe me?
Ask a Veteran's spouse who is too busy taking care of her husband with dementia if she has time to scour the internet to learn how to prove a VA Claim because her VSO won't prove the claim up.
Without attorneys, there wouldn't be a lot of the case law that helped many millions of Veterans recover benefits in the first place.
Ask the LGBT Veteran community – or Veterans that are victims of Rape in the military (aka, what has been de-sensitized to "Military Sexual Trauma") – if they can trust a VSO to handle their gender marker or sexual preference issues discretely in a VA Claim.
Ask the Veteran who is currently being charged with criminal fraud for getting VA benefits he is entitled to if he will trust a VSO to defend that case.
There are whole classes of Veterans the NEED  attorneys.
But even beyond that, if  a Veteran wants an attorney, they should not be discouraged from hiring one.
I think that cuts both ways, too….if a Veteran has a straightforward claim that a VSO can handle  they should be encouraged to go to a VSO to get help.
Frankly, there are straightforward claims that VSOs do really well at.
There are some VSOs that do really well on appeals too, but increasingly attorney representation at the BVA is what gets you better results – take this excerpt from the 2015 BVA Chairman's Annual report which shows that attorneys win a higher percentage of appeals – and lose a lower percentage of appeals: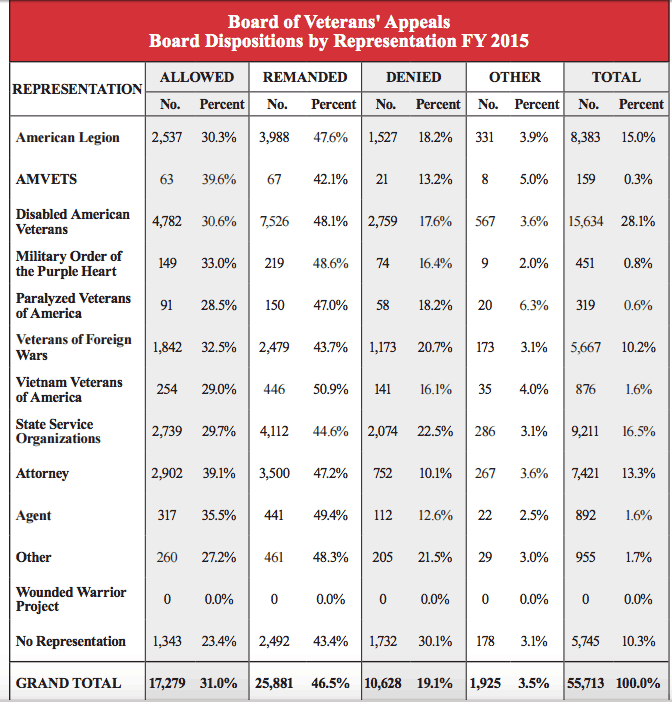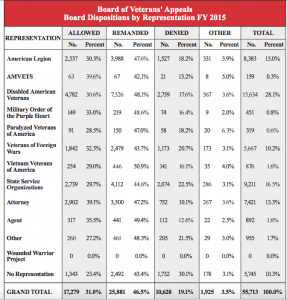 I Have NOTHING against VSOs Helping Veterans in Filing VA Claims.
Honestly, I don't.  This post is not intended to criticize or malign VSOs.
It is only to inform you of the risk of using a VSO in your claim: yes, they are free, but a lot of times, you get nothing more than form filing and bad advice.
There are, however, great VSOs out there.   Many of them are Members of this Blog, and use what they learn here to improve their representation of their Veteran clients
If you are a VSO, and would like to make the Veterans Law Blog available to your entire organization, or if you would like me to come out and provide claim-focused training or seminars, I would love to help you out. Send me an email
If you find a great VSO – one who is curious about your injury and who expends the energy  to help you prove your claim – run with  that.
Good Representatives – hell, even Good Attorneys – can be hard to come by these days.
If you find one, lock 'em down!
But here's the thing….because this applies to VSOs and attorneys……always, always, always, know what they are doing in your claim.
If you don't know what your VSO – or your attorney – is doing in your claim, then you are asking to be ignored, pushed to the bottom of the pile, or worse.
The attorneys and VSOs that you hire are supposed to be the "watchers" in your VA Disability Claims.
They are supposed to be making sure that your claims are fully developed claims, that your appeals are filed timely, that your evidence is properly developed.
So here's the REAL question for you…..
Who is Watching the Watcher in YOUR VA Claim?
That's  YOUR job.
If you don't keep your VSO or Attorney on their toes by checking in and asking smart questions then your claim WILL get stuck in the backlog. –
Did your VSO  fully develop your VA claim before filing it, or did he just pop some forms in the rater's inbox?
Did your representative appeal a bad VA Ratings Decision, or did he just seek reconsideration (which doesn't exist)
How do you know what your VSO or attorney should be doing?
A premium membership to the Veterans Law Blog is a good place to start.
Not only will you keep current on the law and VA regulations, but I will also teach you the 8 Critical Steps to Improving your VA Claim.
Another way to KNOW what your VSO or attorney is supposed to be doing is to watch my How to File a VA Claim Training Package.
This training package contains an hour long video, with a workbook and several Free eBooks, is going to walk you through the filing &  developing of a VA Claim…..
……in such detail that you are going to leave that package knowing much more than nearly every other Veteran out there…and honestly, more than most VSOs and attorneys.
And yet another way is to join the community of Veterans at Hadit.com, where you will find some Veterans that have been fighting the VA for decades, and know what's real and what's not.
Bottom Line: You Have More Power in your VA Claim than you Think.
Don't believe the hype.
If your VSO or attorney feeds you some line about "you just have to wait" or "filing increase claims are going to delay your benefits" or "Be happy with what you got and don't appeal"…..
…..Alarm Bells should be clanging and Red Flags should be going up.
These words are the hallmark of the advocate that doesn't know what they are doing.
How do you Take Back the Power in a situation like this?
You start by learning what  your advocate SHOULD be doing … and either teach them how to do it or fire them and get someone who DOES know what they are doing.
You have a lot of power in your VA claim – much, much more than you realize.