This article was written by Yalitza Ledgister of the law firm of Attig | Curran | Steel, PLLC (I'm told a link to Yalitza's bio is coming soon). 
In mid June 2020, I promised that, in an effort to take a step towards ending the systematic oppression of Black veterans, I would hire a writer to elevate the voices of Black veterans, veterans of color, women veterans and veterans who identify as LGBTQI.
I followed through on my word: Yalitza's column will be written for the Attig | Curran | Steel law firm's "Taking Point" blog twice monthly. But, since I know a guy over at that law firm, they have agreed to syndicate her posts to a new column on the Veterans Law Blog®: the American Veteran. On the American Veteran, I and guest writers will explore what it really means to be a veteran. If you would like to submit an article to be published in the "American Veteran", please click here to pitch your idea to me.  
And without further delay, let's see where Yalitza plans to take us on her journey across The Bridge….
************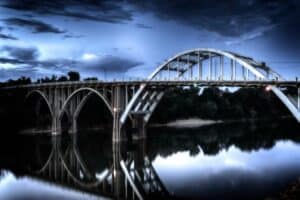 Even as protestors march across bridges across the nation, from the Brooklyn Bridge to the Golden Gate, history teaches us that America is resistant to acknowledging the persistent racism that plagues this country and even worse, resistant to do something meaningful about it.
Welcome to the BRIDGE.
In this column, we will Battle Racism Insensitivity Discrimination and Gentrification through Education.
The voices and truths of our veterans of color will be elevated as we journey together to understanding and action. My name is Yalitza Ledgister and I am honored to facilitate and author this column.
The Past Repeats Itself
The Edmund Pettus Bridge in Selma, Alabama has a historical and symbolic significance. At the foot of the bridge on March 7, 1965, police descended on peaceful protestors in a brutal attack that would later be known as Bloody Sunday.
The pictures below don't need color for a reader to understand that the 1965 attacks were driven by the hatred that feeds racism and all of its political, social, and institutional residuals.
Compare the pictures of the marches near the Edmund Pettus Bridge in 1965 in response to the killing of the civil rights activist, Jimmie Lee Jackson and the ones in 2020 in response to the killing of George Floyd. Little has changed except that now many Americans from all backgrounds are compelled to join the movement to end racism and all the institutions and policies that perpetuate it.
Peaceful protests for racial justice from the present and the past aren't strangers to the stifling response of the government and Americans alike.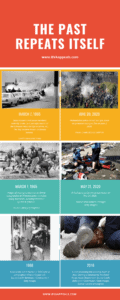 In a racial context, we must be honest about the fact that despite the passing of time and progressive movements for equality, all have failed to eradicate racism completely from our country.
How do we navigate the murky waters of racial injustice, racial inequality, and racial reconciliation?
Racism is a monster that terrorizes across social, economic, political, and personal boundaries.
Difficult conversations need to happen because time itself isn't a cure – even regarding our own racial prejudices and ideas. We have to confront them, educate ourselves, and train to correct them.
What are racist ideas?
Ibram X. Kendi wrote, "A racist idea is any idea that suggests one racial group is inferior or superior to another racial group in any way."
This racist idea can express itself in the form of judging the outcomes or potential outcomes, behavior, and statistics of a racial group to their race. As a result, race is blamed instead of lack of resources, opportunities, and the cumulative effects of disenfranchisement across generations.
Systemic racism, under the guise of colorblind policies further widens the gaps in education, economics, and healthcare outcomes. Each layer of racism and its accompanying generational effects need to be peeled back until it is completely defeated.
Racism is a political, social, mental, and heart problem.
Racism is everyone's problem, because if you are not on the receiving end, you are either endorsing it or complacent. All three, without intentionally calling it out for what it is and demanding it stop, ensure racism thrives.
The recent murder of George Floyd – and the police brutality that led to the killing of unarmed Black men and women who preceded and followed him – has caused an urgency to address America's race problem now.
Black lives are at risk more than ever, from police brutality, COVID-19, or the economic fallout of the virus. There must be a call to action from all citizens.
Our country can no longer be colorblind.
To not see race, is to not see racism.
When you cannot recognize racism, very little can be done to rectify the policies and lack of policies that perpetuate it.
America, take your blinders off.
We cannot ignore the historical significance and consequences of racism that affect our society today.
We have to come to terms with the historical fact that our country found ways to subject our Black community to abuses driven by racism.
Slavery forced African Americans to serve the white race, all in the name of economic prosperity.
As our Tuskegee Airmen prepared to fight in WWII, horrific news leaked of the Tuskegee experiment which claimed the lives of 128 African American men and sickened their families. It was all in the name of science.
Vietnam veterans returned home to Jim Crow, in the name of politics. Due to VA neglect, many veterans of all races in need of medical care for PTSD after serving in Iraq and Afghanistan turned to drugs and alcohol to self-medicate.
Minority veterans disproportionately ended up in prison, homeless or dead.
Statements like, "What are they protesting for? The cop is in jail! They should be satisfied!" are thrown around.
With each comment, I became more invisible.
Did they see what happened to George Floyd? Breona Taylor? O'Shae Terry? Antwon Rose II? Terence Crutcher? Philando Castile? Laquan McDonald? Freddie Gray?
I've only listed a few of the Black men and women killed by police brutality in the past 5 years.
They were fathers, brothers, sisters, sons, daughters, and people. These are not isolated incidents. It is cruel, wrong, frequent, and very real just like slavery was, just like lynching was, just like Jim Crow was.
The last lynching in the U.S. was in 1981, during the millennial generation. Michael Donald was brutally beaten and hung on a tree by Ku Klux Klan members in Mobile, Alabama on March 21, 1981.
I try to drown out these conversations with my headphones as I sit at my desk reading the c-file of an African American Veteran who proudly served our country in the Army, Air Force, and Marines.
He wanted a life-long military career. He was relentless in serving a country that denied African Americans their right to equality. His last tour in the Marines ended abruptly due to an exacerbated illness that was severe enough the Medical Board discharged him. The VA granted his disability at 0%.
This was 1975.
He returned home from military service to get spit on while racial slurs were directed towards him.
What followed is a common sad story for many disabled veterans that aren't able to get the help and support needed to transition, the medical care to keep disabilities under control, and financial resources to sustain them until they get on their feet.
Still undeterred, the veteran signed up for VA education benefits (mind you he grew up during segregation, his education most likely was sub-standard, and he enlisted in the Army during Jim Crow).
His enormous c-file goes like this: VA sponsored training program, drop out to illness, hospital admission, write to VA for increase, denial, apply for VA training program/found employment (longest gig lasts 1-2 years), fired/quit due to illness, hospital admission, write to VA for increase, denial, repeat, repeat, repeat.
He eventually won his claim. But after he wasted 35 years of his prime that he can never win back fighting the VA in his claim.
The current disability check will never give him an opportunity to raise his children or provide for his family. They've all since moved on without their dad.
Veterans of different backgrounds can probably relate to this story. However, the ramifications that this story has on African American veterans and their families outlive them for decades to come.
There is an urgency to prevent these outcomes especially for African American male veterans who are at risk.
The VA is uniquely positioned to do something.
The VA must do better to provide the resources Congress promised.
Not when our veterans are retired, not when our veterans are in a health crisis, not when their family members are picking plots at our National Cemeteries.
As soon as the uniform comes off.
It should be quick and it should be generous – up front.
The positive impact of such a step could last generations – producing successful veterans, united veteran families, and opportunities for the children of veterans that wouldn't otherwise come easy.
We Must All Start to See Color.
Until Americans all start to see color, the struggles and burdens caused by racism will remain invisible.
Although people of all races have joined the cause to challenge the government and society's role in perpetuating racism, we also need to be ready to challenge our own ideas and stereotypes on race.
Further, we have to be intentional about learning and improving our own approach to race relations.
We must question everything we ever thought to be "normal" and fact check our judgements.
Be ready to validate the experiences of others. Our actions and inactions are what separates racists from antiracists.
Everyone can do something within their sphere of influence to increase the opportunities, better integrate, and defend Black lives.
American veterans – it is time to take inventory of all beliefs, laws, policies, practices, published material, images, and messages broadcasted to millions.
The world is watching what we do and don't do.
Our children are watching.
A Bridge is symbolic of connection.
It's a connection that brings two distinct parts together in unity. The skill of bridge building is not for the faint of heart. Combat engineers are not immune to the natural elements they face while building their bridges. Nor are we immune to getting uncomfortable with race topics.
My aim is for this platform to be a virtual Bridge where, even as we build, we can expose the realities and consequences of racism in our veteran and Black communities.
We will elevate the voices of those who have experienced, witnessed, and challenged discrimination in the military ranks, VA, and in the civilian world.
We will educate each other with facts pertaining to the issues of racism and discrimination.
Most importantly, we will validate each other's stories.
Through this discourse, we build awareness and connection and strategize on ideas to gain victory over the systemic racism and disenfranchisement that burdens our veterans and communities of color.