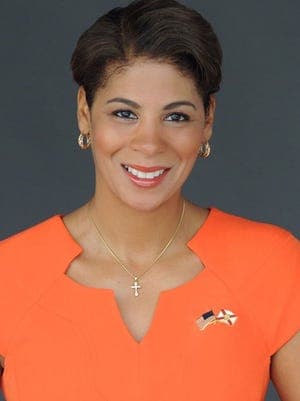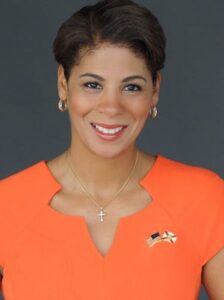 Bold and unapologetically honest, Pam Keith is a refreshing political voice you need to follow right now.  She smoothly articulates the most rocky and controversial topics of our time.  It is no surprise that this attorney with 25 years of experience and U.S. military veteran was the 2020 Democratic nominee for the U.S. House of Representatives (FL-18) winning 80% of the vote in the Democratic primary.
Her authenticity is addictive.
She is a vocal activist, who never misses an opportunity to go public with her candid views on current events.  Her most recent venture and new show, "But What it Really Means Is…" takes a swiss army knife to last night's news and makes it digestible today, completely uncut.
Pam Keith's unique background is familiar to other military or foreign service families living abroad.  Born in Turkey, she's also lived in Morocco, Syria, Brazil. She knows multiple languages including French, Spanish, and Portuguese.  Upon returning to the states, she lived all over the U.S. before she settled in Oakland, CA with her mom and brother.  After college and law school, Ms. Keith followed her father's footsteps, joined the Navy, and served as a commissioned naval officer in the Judge Advocate General's Corps (JAG) from 1995 until 1999.
She began to build her civilian legal career working for corporate firms until having an epiphany in 2013.  In an interview with the Founder & Executive Director of Elect Black Women PAC, Ruby Powell-Dennis, host of "The Future is Full of Second Chances," Ms. Keith gives us an unfiltered glimpse into what led her into politics.
"Then I had my second epiphany... watching Marco Rubio give the answer to Barack Obama's state of the union, where he was all sweaty and cotton mouthed and drinking water in the middle of his speech. I mean he just looked so ridiculous.  And I asked myself in this moment of epiphany… "Why is this guy a U.S. Senator?" and the answer was…cause he tried! And he walked on this earth believing that this is where he belongs.

It became clear to me that no Black woman had ever run for U.S. Senate in Florida… I believe Black women belong in the U.S. Senate, and I believe I belong in the U.S. Senate… and I'm going to make my case.  So, I got into my little car and drove 117,000 miles all over the State of Florida… and went to any audience that would hear me out."
Most of her initial campaigning before the coronavirus hit was grassroots, canvassing and door to door in the battleground state.  In 2016, Ms. Keith became the first African American woman to run a qualified campaign for the U.S. Senate in Florida.  There has yet to be a "first" African American Female Veteran serving in Congress, and Pam Keith has taken note.
"Service isn't about personal ambitions or profits.  It's about putting others first, giving back to your community, and taking the steps necessary to improve the lives of others."
The corporate attorney turned advocate for "We the People," defines what it means to be a Black Female Veteran in pursuit of political office to serve the people.  Last year she joined at least 130 other Black women who were running for congressional seats for both the U.S. House and Senate.  2020 broke the record for largest number of Black women candidates to have ever run for Congress, for both parties, in a single election year.
After publishing 22 episodes of her new show, she continues to impress and inspire.  Her frank honesty leaves her subjects vulnerable as she uncovers tidbits that the media would rather leave out.  She also defines terms and puts information in context for her listeners.  For example, in episode 21 she gave practical advice on how we can hold corporate entities, like Prudential, responsible when they support sedition.
As customers and consumers, we have the option to take our money and investments to companies that share our values.  Congress can also pass legislation that would require corporate entities to publicize dark money transactions related to elections.  She also believes that masks work to reduce the spread of coronavirus; so, if there are travel restrictions put in place in states with uncontrolled spread, business leaders will sound the alarms to local governors who lack courage to implement laws that support containment.
Despite discussing difficult topics, her episodes are down to earth and relatable. She loves cats, Reese's peanut butter cups, and the thought of Louis DeJoy losing his gig and going to jail.  She is too assertive, too fearless, too smart, too funny, and too talented for anyone that is too insecure to listen.
Ms. Keith's fiery personality makes the presentation of her innovative ideas entertaining. But she is quite serious.  She has an answer and a policy proposal for everything from America's inequitable criminal justice system, to coronavirus, healthcare, and xenophobia.  She has been featured in other podcasts like Terrell Starr's Black Diplomat and networks like MSNBC.  As a Black female veteran, Pam Keith is making history in the present.  Journalists everywhere – take a number.
You can check her out at the following social media platforms:
Patreon:   https://www.patreon.com/pamkeithfl/posts
Youtube: But What It Really Means Is
Twitter:  https://twitter.com/PamKeithFL
Instagram: https://www.instagram.com/pamkeithfl/