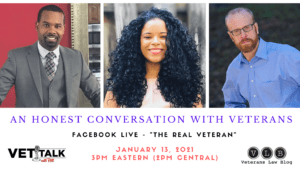 In light of the events of the past couple of weeks, and the role of veterans in those events, it is important that we veterans begin to have an honest conversation about race and identity in the veterans community.
Join Yalitza Ledgister, Hill Pluviose, and Chris Attig as we begin a conversation in a Live Facebook
Also, please head over to You Tube and subscribe to my good friend Hill Pluviose's channel  on YouTube: Vet Talk with Hill.
Please watch, and share your comments, below.