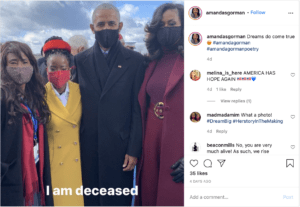 Single mothers!
The poem "The Hill We Climb" recited by Amanda Gorman during the Inauguration on January 20th, 2021 was also written for you.
It was created and articulated by a brilliant young Black woman with her eye on the President's office.   The poet's dynamic wordplay felt like powerful sword play as she lyrically walked us through America's grief and directed us to not only "see the light but be the light."   People watching were humbled and impressed to know that Amanda Gorman, also the first Youth Poet Laureate, was raised by a single mother.  I became determined to find out who this single mother is with superhuman qualities who could cultivate and raise such a bright and bold child!
What does it feel like for a Black mother to see her 22-year-old daughter reciting her poetry for the inauguration of the first Black female Vice-President in front of the Capitol Building just days after white supremacists failed to overtake it?   If Dr. Joan Wicks, Amanda Gorman's mother, calls me back with an answer, I will let you know.  On January 20, 2021, little Black girls saw their future selves in Kamala Harris, while Black mothers saw their young daughters in Amanda Gordon.
Joan Wicks became a mother of 3 when her twin baby girls, Amanda and Gabrielle Gorman, were born on March 7, 1998.  Being a Black single mother is hard, being a Black single mother with 3 children in the 90s is harder still. We all know the hardships that are implied when we talk about single mothers, but few consider the impact hardships that are overcome can have on growing children.
Single mothers have been in the business of building bright leaders for this country since the beginning of our history.  Numerous US Presidents, including President Barack Obama were raised by single mothers.  Maya Angelou was the first African American single mother poet to recite at an inauguration in 1993. Single mothers are painfully positioned to raise stars out of their struggles.
As a Black single mother, with three young children under her wings, Joan Wicks pushed forward to obtain her doctorate degree in education.  In her 2016 dissertation she wrote:
It has taken me nearly ten years to complete my master's degree and this doctoral degree.  While this may seem like an inordinate amount of time, in reflecting on what it took just to get me to this point, what it took for a single generation of my family to attend college, I know that in that respect, it has been just a blink in time.
Imagination, research, and reflection don't do justice to the amount of perseverance, strength, and energy needed to complete these two degrees.  To a young teen fresh out of high school this is a welcomed challenge, but to a Black single mother of three, this is an exhausting challenge.
By this point in my research, I had already forgotten about my first question and became consumed by the mother.  I was buried in imagining her exhaustion.  Then there is this; if being born Black wasn't obstacle enough to achieving what she has, she reminds us what it cost others before her:
… I dedicate the completion of this dissertation to my ancestors, the thousands of unknown people who came before me.  This dissertation is in reverence to you who persevered through the Middle Passage in the bowels of slave ships… you hoped, prayed, laughed, and died hoping for freedom, and when it came, you watched your freedoms taken away for another 100 years under Jim Crow laws.  Some of you left and went to Chicago as part of the great migration in hopes of a better life… And there, in this new land of hope, Chicago, I was born.
She goes on to list the obstacles during her ten years of study,
I lost the love of my life, my dear sister, Apryl Theresa Wicks, endured a 15-year court battle as a self-represented litigant, overcame serious illness, financial challenges, and a string of other extraordinary events.  Most importantly, I have raised three fine young children.
Her dissertation acknowledgement is more than humbling. Then she addresses both my questions with one answer:
Many people ask me my secret, how did I raise such wonderful children? Little do they know, that's not the right question.  The more accurate question would be: How did I raise such wonderful children despite such incredible obstacles?
The simple answer that I would put forward is love.
Love.  The love that others poured into her and her dreams; she poured into her children and their dreams.  She raised them to witness the difference between obstacles and barriers.  Joan Wicks completed her Doctorate in Education in 2016, and so, she proved to her children that barriers don't exist, they are just obstacles to overcomers.  It is clear where Amanda Gorman got her bold brilliance from.
I also see a mother's journey reflected in her daughter's poem:
And so we lift our gazes not to what stands between us

But what stands before us

We close the divide because we know, to put our future first…

That even as we grieved, we grew

That even as we hurt, we hoped

That even as we tired, we tried

That we'll forever be tied together, victorious
Her words leave listeners in a hush, repeating her verses to discover the double meaning beneath and in between.  The young poet was modest in defining who she is and where she's from when she wrote, "Where a skinny Black girl, descended from slaves and raised by a single mother, can dream of becoming president, only to find herself reciting for one."  This fearless Black woman is no longer dreaming of the White House, she is already carving her path.
So while Black girls dream, Black Heroine Mothers teach them how to reach them.
Note: Photograph is from Ms. Gorman's public-facing Instagram page, and links to same. We are unaware of any copyright restrictions regarding this photo; if you hold a copyright regarding this photo, please email Chris@veteranslawblog.org