Since 2013, I have published eBooks teaching Veterans how to improve their own VA Claims. I believe we've published a total of 13 eBooks – all of which are available here.
I have held off on offering actual printed paperback books – primarily because of the cost of publishing them, and because of the time that would be involved mailing them out.
I am working on changing that though – many of you tell me time and again that you WANT printed paper books.
So, in the month of May 2016, I am testing distribution of one Veterans Law Blog in print format.
Here is the book I am offering: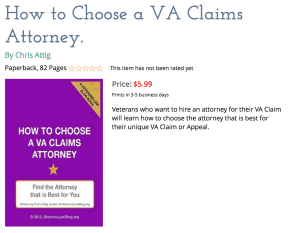 It costs money to print paper books, so this book is for sale, and you will have to pay your own shipping costs.
You can get this same book as an eBook, for free, by clicking here.
But if you would like a printed copy, please visit my distributor's page and make the order, and a paper copy will be mailed to you.
If I receive positive feedback on this test, I will consider offering other Veterans Law Blog field manuals in print format.