Description
If you purchased all of the Veterans Law Blog Training Guides and Video Programs, it would cost you over $600!
But….
If you Buy Every Product from the Veterans Law Blog ….
in one secure purchase….and save more than

 $300*!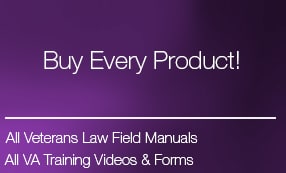 3 Reasons this Package is Our 

BEST

Value: 
You're Going to Get EVERYTHING we publish: all our videos, training guides, field manuals and ebooks
You can do it in a single - secure - purchase
You're Going to Save a chunk of money
Here's What You Get in a Single Secure Purchase:
9 Field Manuals (Downloadable eBooks you can use on all your devices)
3 Training Videos (over 9.5 hours of streaming video)
Access to the "How to Prove the 4 Pillars of a VA Service Connection Claim" (Estimated 5+ Hour Video Training...a $125 Value...available March 20, 2017)
Access to the "How to Get & Use Your VA C-File  Video Course (3 Hours of Video Training plus 14 forms...a $125 Value.)
Access to the "How to File a VA Claim" Video Training (1 Hour of Video Training plus workbooks and forms...a $110 Value.)
50% coupon for an Annual Premium Membership on the Veterans Law Blog
You Save $300+ by Getting it All NOW:
Save 33% off the cost of buying all the books and videos separately
Get a 50% discount on the price of  a Premium Annual Subscription to the Veterans Law Blog (Current Price: $104.95)
THESE eBOOKS ARE INCLUDED:
---
#1: VA Sleep Apnea Field Manual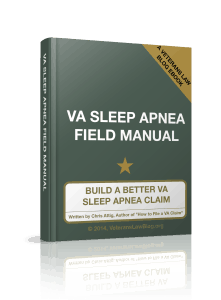 In over 165 pages of information, I will teach
* How to Prove Sleep Apnea Claims using my "4 Pillars Method"
* Common Veteran Errors in Veterans VA Sleep Apnea Appeals and Claims
* How to Put it All Together – the 5 Most Common Service-Connection Scenarios.
---
#2: VA  Claims Process Field Manual:
The VA Claims Process is complicated – some call it the Hamster Wheel.
If you know how something this complex REALLY works – in a clean and straightforward presentation – you can focus your energy on getting the right evidence to the right people at the right time in your VA Claim.
This Veterans Law Guide will teach you each of the major stages of the VA Claim and Appeal, so you can do just that.
---
#3: 10 Veterans Court Cases Every Veteran Should Know.
Veterans Court Cases are more than just boring statements of law and legalese.
Properly studied, they teach us how to prove and win our claims and appeals
This Veterans Law Guidebook teaches the 10 Cases that Every Veteran Should Know.
---
#4: VA Claims Evidence Field Manual (The Secret to Proving Your VA Claim).
You can't win your VA Claim or Appeal without evidence.
And my experience is that the Veterans that submit a certain type of evidence get their VA decisions more quickly.
I will teach my method of using 5-Star Lay and Medical Evidence to prove a VA Claim or Appeal – and share my unique Lay Evidence Worksheets and Sworn Declaration forms.
---
#5: 5 Reasons that the VA Keeps Screwing Up Your Claim
In the 7 years, I've looked at HUNDREDS — if not THOUSANDS — of C-Files in cases that the VA has denied a Veterans benefits.
There are patterns showing why the VA Keeps screwing up your VA Claims!
Here are 5 ways to break those patterns the VA isn't going to share!
---
#6: How to Choose a VA Claims Attorney
I see it all the time – a Veteran gets in over their head in their VA Benefits claim, and then scrambles to find an attorney.
Often, they make a choice that may not be ideal for their claim.
I teach Veterans 8 Things they should know before hiring an attorney in a VA Benefits Claims.  Included is a 30-question checklist to use when  interviewing attorneys.
---
#7: TDIU Field Manual
TDIU can be a complicated and sometimes overwhelming claim or appeal for a Veteran – even the VA regional offices and BVA get confused about what you need to prove to get this benefit.
Rather than overwhelm you with lawyer-talk, legalese, and convoluted analysis, this eBook presents the core information that a Veteran filing for TDIU  needs to know.
This eBook will help you understand the process, law and strategy of the average TDIU claim – written in plain English.
---
#8: DRO Case Study
In this case study, the Veteran got to his DRO hearing and was told that his Major Issue – Ischemic Heart Disease resulting from exposure to Agent Orange on the Korean DMZ – was not on appeal.
This Case Study is a helpful look into how the DRO Process can help you achieve a positive outcome.
---
#9: Sworn Declaration
If you are going to submit lay evidence, wouldn't you rather the VA give it full legal weight?    Of course you would.
Use a Sworn Declaration form that my law firm uses to add lay evidence to the Veteran's appeal.
The sworn declaration – according to 28 USC § 1746 – carries the same legal weight as a notarized affidavit.
THESE VIDEO TRAINING PROGRAMS ARE INCLUDED:
---
#1: How to Get & Use Your VA C-file! (3 hr Streaming Video, with 14 downloads!)
This 3 hour video, broken into 10 easy-to-follow lessons, teaches you what your c-file is, where the VA keeps it, why you need to get a copy, how to get it, how to organize it, and how to USE the C-file to Take Back the Power in your VA Claim, including:
* INCLUDES My never-before-released C-File Review Template form and instructions (just like the one I use on every C-File at my law firm)
---
#2: How to Prove the 4 Pillars of a VA Service Connection Claim (5+ hr Streaming Video, broken into easy to follow and informative downloads!)
You will not find a more thorough or definitive guide to understanding and proving the 4 Pillars of a VA Service Connection Claim anywhere else.  Not even the VA will give you this much information. Click here to see a sampling of the topics covered:
This 5+ hour video, broken into easy-to-follow lessons, teaches you everything you will need to know to have a strong understanding of VA Claims eligibility….the 5 Paths to Service Connection….how to prove an impairment rating….how to make sure you are getting the best ratings possible…how to fight for the earliest effective date…and much more.
---
#3: How to File a VA Claim (1 hr streaming video)
This may be the most information anyone has ever put together in a single tool on the topic of filing and proving up a Fully Developed Claim (FDC) for VA Service Connection.  With the purchase of this video, you will receive:
* 54 Minute Video giving Step-by-Step Training
* 57 Page Workbook with over a dozen forms, templates, worksheets, & checklists
* My ONE-OF-A-KIND VA Claims Map
* Much More.
---
#4: Get to the Point! (1/2 hour Streaming Video)
This 25 minute video gives you MY 5-step method to persuasive writing.  I use it in all of my cases, and for all of my clients. I'll teach you how to make your VA Claims arguments MORE persuasive…..and….how to give the VA written documents that are more clear and concise.
I'll teach how to use your writing to MAKE the VA want to issue a decision in your claim or appeal….and…..how to outline your writing, the facts you should add to support your argument
My goal is to teach you some basic writing tips so that you know how to tell the VA exactly what you want.  PLUS, I'll share my 7 Tips for Editing your writing that will fix 80% of the problems in your VA Claims arguments.
---
* This package Includes a 50% discount on your first year Premium Annual Membership (a $50 value)