Description
If you are a Veteran with a Sleep Apnea VA Claim, you might have noticed that finding information about how to service connect sleep apnea is like searching for the Holy Grail.
….the harder you look, the less you find.
Why is that? With so many Veterans suffering from sleep apnea – and the medical conditions it causes – why can't there be MORE information for Veterans filing VA Sleep Apnea Claims and Appeals?
This is the question I set out to tackle when putting together the VA Sleep Apnea eBook Package.
I Will Teach You How to Improve Your Sleep Apnea Claim!
Between April 30, 2013 and April 30, 2014, the BVA issued 1,845 decisions in Veterans  Sleep Apnea Appeals (according to Lexis).
76% of the Veterans' Sleep Apnea Claims or Appeals were Denied or Remanded for more evidence!
That means that 3 out of every 4 VA Sleep Apnea claims are being denied – but only after Veterans spend years in the VA Hamster Wheel!
Veterans NEED Information and Education to Improve their VA Sleep Apnea Claims and Appeals.
I decided to do something about it: I wrote  the ONLY Sleep Apnea Appeals and Claims Guidebook for Veterans battling the VA.
In this Training Package, I will teach you to Build your Sleep Apnea Claim – the Right Way.
First, I want to educate you about the basic problems Veterans face in Sleep Apnea Claims.
Not only can you read how to prove a Sleep Apnea claim, but you will also learn the Top Reasons Veterans get denied, and the Biggest Mistakes Veterans make in Sleep Apnea Claims.
This Sleep Apnea Guidebook is the MOST thorough resource available for Sleep Apnea claims to the VA – its over 167 pages long and LOADED with information to help you Improve Your VA Sleep Apnea Claim.
Click on the Button below to Get Started on YOUR VA Sleep Apnea Claim…and learn about a few BONUS Benefits & Features!
Second, I'd like to teach you what MOST Veterans DON'T KNOW about how the VA Claims Process – how it really works, and the 5 DIFFERENT paths to prove Service-Connection.
Third, I'm going teach you some of the most POWERFUL information out there:
This package will make you among the Smartest – and most prepared – Veterans battling the VA – read to learn more about each book.
You Receive 8 Veterans Law eBooks:
---

#1: Put it To Rest! Your VA Sleep Apnea Claim
In over 165 pages of information, I will teach
* How to Prove Sleep Apnea Claims using my "4 Pillars Method"
* Common Veteran Errors in Veterans VA Sleep Apnea Appeals and Claims
* How to Put it All Together – the 5 Most Common Service-Connection Scenarios.
---
#2: Climbing the VA Claims Process:
Begin to understand that the VA Claims Process is a ladder – not a Hamster Wheel.
This Veterans Law Guide will help you "choose your battlefield" in the 3 major stages of the VA Claim and Appeal.
---
#3: 10 Veterans Court Cases Every Veteran Should Know.
Veterans Court Cases are more than just boring statements of law and legalese: they teach us how to prove and win our claims.
This Veterans Law Guidebook teaches the 10 Cases that Every Veteran Should Know.
---
#4: The Secret to Proving Your VA Claim.
You can't win your VA Claim or Appeal without evidence.
And my experience is that the Veterans that submit a certain type of evidence get their VA decisions more quickly.
I will teach my method of using 5-Star Lay and Medical Evidence to prove a VA Claim or Appeal – and share my unique Lay Evidence Worksheets and Sworn Declaration forms.
---
#5: 5 Reasons that the VA Keeps Screwing Up Your Claim
In the 7 years, I've looked at HUNDREDS — if not THOUSANDS — of C-Files in cases that the VA has denied a Veterans benefits.
There are patterns showing why the VA Keeps screwing up your VA Claims!
Here are 5 ways to break those patterns the VA isn't going to share!
---
#6: 8 Things That Veterans Should Know Before Hiring an Attorney
I see it all the time – a Veteran gets in over their head in their VA Benefits claim, and then scrambles to find an attorney. Often, they make a choice that may not be ideal for their claim.
I teach Veterans everything they should know before hiring an attorney in a VA Benefits Claims.
Included is a 30-question checklist to use when  interviewing attorneys.
---
VIDEO #1: (Regular Price if bought separately: $124.95)
How to Prove the 4 Pillars of a VA Service Connection Claim (5+ hr Streaming Video, broken into easy to follow and informative downloads!
You will not find a more thorough or definitive guide to understanding and proving the 4 Pillars of a VA Service Connection Claim anywhere else.  Not even the VA will give you this much information. Click here to see a sampling of the topics covered:
This 5+ hour video, broken into easy-to-follow lessons, teaches you everything you will need to know to have a strong understanding of VA Claims eligibility….the 5 Paths to Service Connection….how to prove an impairment rating….how to make sure you are getting the best ratings possible…how to fight for the earliest effective date…and much more.
---
What Other Veterans are Saying about these Veterans Law Guidebooks:
Veteran Thomas C. posted on Facebook about the Sleep Apnea Guidebook: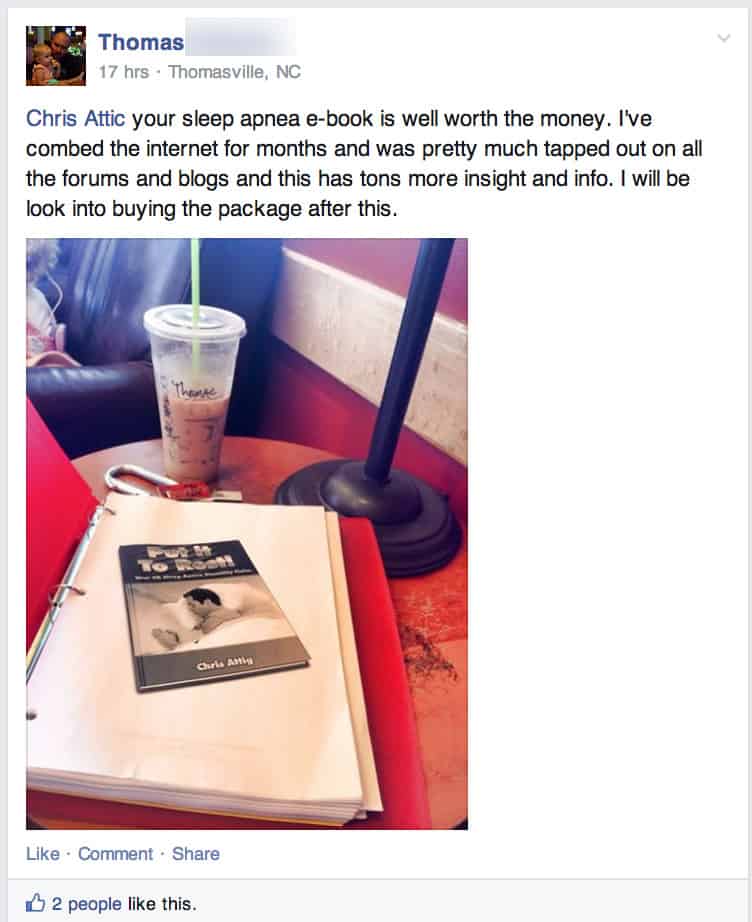 Veteran Lee G. said:
"Chris gave me the knowledge to file a claim for Sleep Apnea.  
I read his information, submitted medical documents, received a Letter of Nexus or comments from a VA contractor doctor.
My claim was approved first time submitting. I got a 50% rating
That's $901.83 a month.
And my sleep study was not done in the military."
Veteran James F. said:
"You explain in plain language what works and what doesn't and why it doesn't.
Your E-Books on all phases of the claim are so helpful. Your book on Lay and medical evidence is fantastic and easy to follow.
Good job." 
Veteran Bill C. said:
"I have an insight now that I did not have until I found your web site and the E Books. 
I am better prepared to move my claim along…I do not feel as though I have to go through this process alone."
Veteran George D. said:
"[Y]our Ebooks would be my 1st step, if I had to do [my claim] all over again.
Ask me now what I think your Ebooks and Documents are worth…..saved me a year or 2 on BVA appeal and at least $15K in legal fees."
Veteran Daniel T (First Sergeant, US Army, Ret.) said:
"I would like to say THANK YOU for all the great information I read and used in the Ebooks.
I feel like "I Spent a Night at the Holiday Inn Express" .
I HIGHLY Recommend to all Veterans' to purchase the eBooks. FIVE STAR PLUS ….wow."
Veteran Fred E. said:
"Your book(s) were of immeasurable value to me…The info in there has allowed me to get my claims back on track for the first time ever….
Feel free to use me as a reference etc. as I am more than satisfied. "
Veteran Alex L. says:
"I didn't realize how important lay evidence was.  Great job highlighting the common mistakes, too.  
This is an excellent and eye-opening book.  I'd recommend it to any Vet filing a Sleep Apnea Claim."