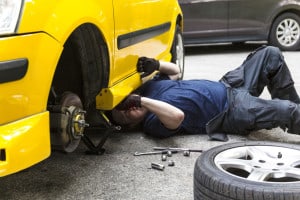 Before you can fix your car, you have to take a look "under the hood". Before you can treat a medical condition, you have to diagnose the problem. And before you can win a VA Claim or Appeal, you need to see the C-File.
Let's face it, filing a disability claim is not as easy as it should be.   And it gets harder when you are denied.
You are faced with these questions – and many more – about how to start the VA Disability Claims process.
These are all legitimate questions, but they can't be answered thoroughly until you do this ONE thing:  Get a Copy of your VA CFile.
To Fix your Veterans Disability Claims, You First Need to Find the Problem.
When you need to make repairs to your car, you have to diagnose the problem first, right?
What if your spouse is constantly on your back to fix the leaky faucet in the kitchen?  You find the source of the leak first, don't you?
Same with a VA Disability Claim – you have to diagnose the problem before you can plan the solution.
How, then, do you diagnose the problem?
These Veterans Disability Claims eBooks are a Great First Step.
The first step is to realize that you have MORE POWER in your VA Disability Claim than you think.  Once you accept this, the very next thing you should do is get a copy of your VA C-File.
The VA CFile has everything that the VA, the docs, the BVA and the Veterans Court are using to deny your claim.  For that reason, your VA C File is the most important document in your VA Claim.  Get a copy of it now…you don't want to end up like this Veteran that waited too long to get a copy of his VA CFile.
When you get it- and the method I teach in my Veterans Disability Claims eBooks have REAL TEETH to help you get that C-File – you might be shocked at what you find in it….like this Veteran was: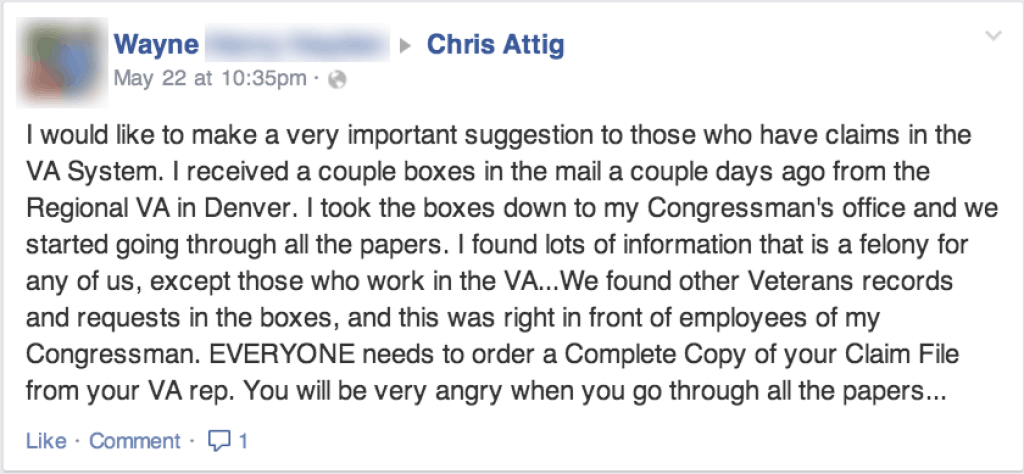 Want Proof that these Veterans Disability Claims eBooks work?
Read what this Veteran had to say on Facebook: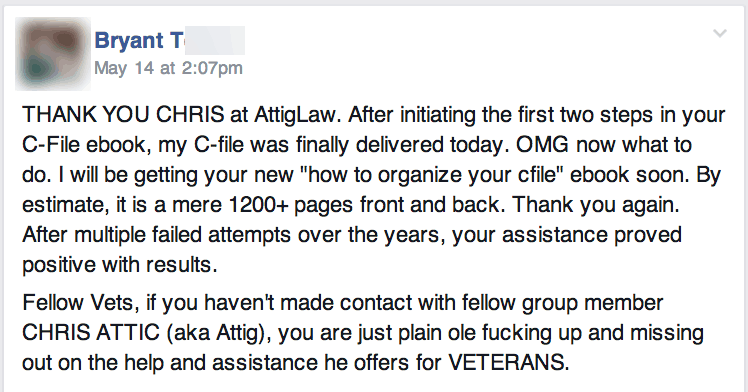 Where Can You Get a Copy of this Veterans Disability Claims eBook?
There are over a dozen Veterans Law eBooks and hours of training videos available in the Veterans Law Blog Bookstore.
Books that can teach you the top reasons  the VA keeps screwing your claim, how to find and add 5-Star Evidence to your VA Claim or Appeal, how to make sure you are using all 5 Paths to Service Connection, how to better understand the VA Claims Process.
You can save money on these eBooks by purchasing them in a Package – I've grouped popular books together into several packages depending on the type of claim you have.
And don't forget the training videos:  the Veterans Law Blog is the ONLY website that will teach you how to file your own VA Claim and get it right the first time!   There are also videos teaching you how to be more persuasive in your claims and appeal arguments to the VA, and, beginning in 2016, 60-90 minute LIVE webinars on specific VA Claims and Appeals Topics.
My goal is to make the Veterans Law Blog the best resource for Veterans battling the VA by teaching Veterans how to diagnose and fix the problems in their VA Claims and Appeals.
Join now and become a Premium Member!