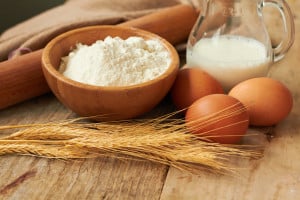 If I have heard it once, I've heard it a million times….a Vet tells me that they have a deadline to file their Notice of Disagreement, but has no idea where to start.
Many Veterans, exhausted by the idea of writing another appeal that the VA won't adjudicate, just give up, and leave a lot of money and benefits on the table.
I'd like to give you some Quick Tips – and some powerful tools in my books and videos – that will help make filing your appeal not only a little easier….but may help you get your VA claim out of the Hamster Wheel a little faster.
Just like every good recipe requires you use the right ingredients, so too the VA Notice of disagreement needs certain "ingredients" to be an effective tool in your VA Claim.
In this post, I'm going to give a basic explanation of the key ingredients of a VA Notice of Disagreement.
But remember – just like every Southerner has their own special dry rub for BBQ, and every Yankee has their own way of making hot wings, every Notice of Disagreement can be a little – or a lot – different.
These are the basic building blocks – and should help to get you started.
Let's Start Here – What is the Notice of Disagreement?
When a Veteran files a claim for disability compensation (and most other veterans benefits), he or she stands a pretty good chance of being denied the FIRST time around.
Frankly, I think this is where the problem is solved the quickest – when you've seen as many claims as I have, it becomes clear that there are some very simple steps Veterans can take to file their VA Claim the right way, stay out of the VA Hamster Wheel forever, and get faster and better VA Ratings Decisions.
But let's say you didn't get my training in how to file a VA Claim, and were denied VA Disability benefits in a recent VA Ratings Decision.
Your next step is either to give up – or to appeal. If you are going to appeal, you want to file a Notice of Disagreement (NOD).
Don't fall for this "trick" – many VSOs will tell you to request reconsideration instead of appealing – find out why this is a trap for Veterans, and how many Veterans that fall into it will end up flushing money down the toilet.
My Firm typically requests a DRO Hearing – a Decision Review Officer Hearing – when filing the NOD as well.
By the way, the filing of a NOD is a key point in time  to consider hiring an attorney to help you with your VA appeal – if you are considering hiring an attorney, please check out this free eBook to learn how to choose the best attorney for your VA claim or appeal.
The purpose of the NOD is for a Veteran tell the VA that he or she disagrees with the Ratings Decision on the Veteran's claim for disability benefits or other compensation.
Here is the statutory definition of a NOD, from 38 C.F.R. § 20.201:
"A written communication from a claimant or his or her representative expressing dissatisfaction or disagreement with an adjudicative determination by the agency of original jurisdiction and a desire to contest the result will constitute a Notice of Disagreement. While special wording is not required, the Notice of Disagreement must be in terms which can be reasonably construed as disagreement with that determination and a desire for appellate review. If the agency of original jurisdiction gave notice that adjudicative determinations were made on several issues at the same time, the specific determinations with which the claimant disagrees must be identified. For example, if service connection was denied for two disabilities and the claimant wishes to appeal the denial of service connection with respect to only one of the disabilities, the Notice of Disagreement must make that clear."
Here are the Different Forms you can Use for a Notice of Disagreement.
IMPORTANT NOTE: Effective March 24, 2015, any Notice of Disagreement MUST be Filed on VA Form 21-0958.  IT IS NOW MANDATORY THAT NODs filed ON/AFTER March 24, 2015, BE FILED USING VA FORM 21-0958.
Want to see me walk you through a VA Form 21-0958 Notice of Disagreement? Watch this video.
Here's the BASIC Information That Should be in a NOD.
There are 2  specific things need  to be in the NOD:
1) the Veteran needs to let the VA know that he disagrees with the decision of the VA Regional Office, and
2) the Veteran needs to know that he intends to appeal the decision.
I have found it helpful for the Veteran to identify what part(s) of the Ratings Decision he or she disagrees with and why, as a more thorough and well written NOD can affect the outcome of the DRO Conference.
I have also decided that I'm sick and tired of crappy VA C&P Exams – I'm going to start doing THIS in every NOD and VA Form 9 that my firm files for our clients.  Read here to see if you should add this language to YOUR Notice of Disagreement.
Notice of Disagreement Timeline.
The Veteran has one (1) year from the date of the Ratings Decision Letter to file the Notice of Disagreement (NOD).
There are some reasons why you would want to file a NOD earlier than that one year deadline, and there are some reasons that you would want to wait.
One reason to wait is to hold out for the possibility of a change in the law (only if it is clear that your case will likely continue to be denied by the BVA).
Another reason to wait is to give the Veteran time to factually develop the case by finding additional lay and medical evidence, consulting with medical experts, securing medical expert opinions, etc.
And the sooner you file the NOD, the quicker you come up in the DRO or BVA hearing "queue".
Word of warning here – don't RUSH filing your NOD just to get in line quicker.  Getting a BVA hearing quicker doesn't matter if you didn't take the time to Improve your VA claim. 
If you filed a DRO request with your Notice of Disagreement, then you have an additional opportunity to accelerate your case – and in reality can set your claim up so that you have THREE ways to win at the DRO.
Every case is different, and so a cookie-cutter approach cannot be applied to Veterans benefit claims.
But some methods are tried and true, and will most assuredly improve your experience with the VA Claims Process.
Check out my full-length video "Get to the Point: Better Writing in Your VA Claim", where I will teach you 5 simple steps to improve HOW you write your Notice of Disagreement in a VA Claim.
IMPORTANT NOTE: Effective March 24, 2015, any Notice of Disagreement MUST be Filed on VA Form 21-0958.  IT IS NOW MANDATORY THAT NODs filed ON/AFTER March 24, 2015, BE FILED USING VA FORM 21-0958.